Perfect Mutton Dum Biryani Recipe by SooperChef
Perfect Mutton Dum Biryani Recipe by SooperChef
Unlock the Secrets of the Perfect Mutton Dum Biryani with Our Comprehensive Step-by-Step Guide. From tender marinated mutton to fragrant basmati rice, each layer is carefully crafted to create a symphony of flavors. Elevate your festive feast with our expert tips and techniques. Impress your loved ones with an unforgettable culinary masterpiece that captures the essence.

Ingredients
Ingredients for Mutton Marination
Ingredients for Masala Preparation
Ingredients for Boiled Rice
Ingredients for Mutton Dum Biryani
DIRECTIONS
If you are looking for some delicious recipes which are easy to make then look no further. SooperChef gives you a variety of recipes with easy step by step procedures which makes it easy to follow. Tried and tested recipes which every foodie will love to try.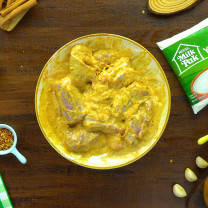 1 .
In a bowl add mutton, salt, lemon juice, ginger garlic paste, turmeric powder, red chili powder, coriander powder, yogurt and fried onion. Mix it well and set aside for half hour.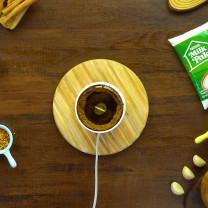 2 .
In a preheated pan add coriander seeds, cumin seeds, green cardamom, cinnamon sticks, black peppercorn, red chili flakes, bay leaves, cloves, nut meg, mace, turmeric powder and salt. Roast it until fragrant.Grind it in to a fine powder. Your Biryani Masala is ready.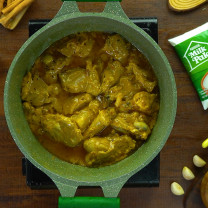 3 .
In a pot heat oil and add cumin seeds, cloves, green cardamom, black cardamom, bay leaves, cinnamon sticks and cook for a minute. Add marinated mutton and cook until mutton changes color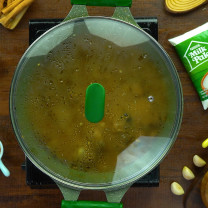 4 .
Add water and cover and cook for 10-15 mins.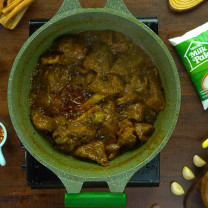 5 .
Take off lid, mix it well and cover and cook again until meat is fully done. reserve ¼ cup of oil for later use.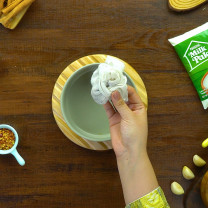 6 .
In a white cloth add star anise, bay leaf, cloves, black peppercorns, green cardamom and cumin seeds and tie the cloth.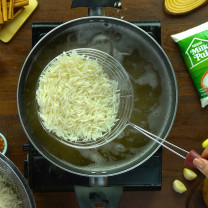 7 .
Now in pot heat water, salt and tied cloth and salt. Bring water to a boil and add soaked rice and cook it until 80% done.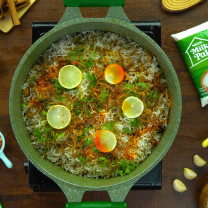 8 .
In the mutton masala pot add layers of boiled rice, brown onion, yellow food color, kewra, lemon, green coriander, mint leaves, dry biryani masala and reserve oil.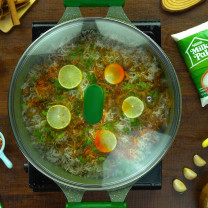 9 .
Cover it and steam it on low flame for 10-12 mins.
10 .
Your Mutton Dum Biryani is ready.
DIRECTIONS
اگر آپ مزیدار اور آسان ریسپیز ڈھونڈ رہے ہیں تو آپ کو کہیں اور جانے کی ضرورت نہیں۔ سوپر شیف آپ کو مختلف اور آسان ریسپیز فراہم کرتا ہے جو کہ باآسانی بنائی جا سکتی ہیں۔ آزمودہ ریسپیز جو کہ ہر کھانے والے کی پسند بنے۔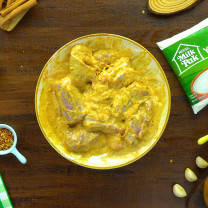 1 .
مٹن میرینیشن بنانے کے لئے ایک باؤل میں مٹن، نمک، لیموں کا رس، ادرک لہسن کا پیسٹ، ہلدی پاؤڈر، لال مرچ پاؤڈر، دھنیا پاؤڈر، دہی اور تلی ہوئی پیاز ڈال کر اچھی طرح مکس کریں اور آدھے گھنٹے کے لیے سائیڈ پررکھ دیں۔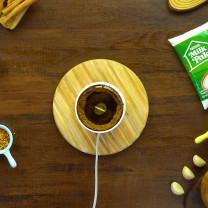 2 .
بریانی مصالحہ بنانے کے لئے پہلے سے گرم کیے ہوئے پین میں سوکھا دھنیا، زیرہ، ہری الائچی، دار چینی سٹیکس، کالی مرچیں، کُٹی لال مرچ،کڑی پتے، لونگ، جائفل،جاویتری، ہلدی پاؤڈر اور نمک ڈال کر خوشبوآنے تک بھونیں۔ اسے باریک پاؤڈر میں پیس لیں بریانی مصالحہ تیار ہے۔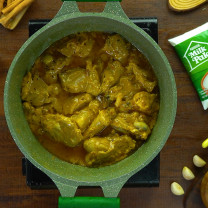 3 .
مصالحہ بنانے کے لئے ایک برتن میں تیل گرم کریں اور اس میں زیرہ، لونگ، ہری الائچی، کالی الائچی، کڑی پتے اور دار چینی سٹیکس ڈال کر ایک منٹ تک پکائیں پھر میرینیٹ کیا ہوا مٹن ڈال کر مٹن کا رنگ بدل جانے تک پکائیں۔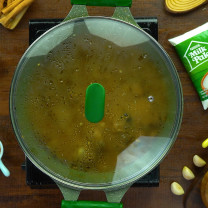 4 .
اب اس میں پانی ڈال کر ڈھک دیں اور دس سے پندرہ منٹ تک پکائیں۔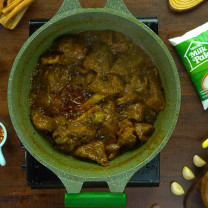 5 .
پھر ڈھکن اتار کر اچھی طرح مکس کریں او دوبارہ ڈھکن سے ڈھک کر پکائیں جب تک کہ گوشت اچھی طرح گل نہ جائے اور اس میں سے بعد میں استعمال کے لیے ¼ کپ کھانے کاتیل محفوظ کرلیں۔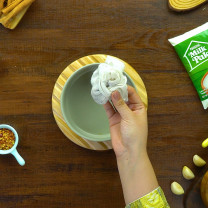 6 .
ابلے ہوئے چاول بنانے کے لئے ایک سفیدململ کپڑے میں بادیان کا پھول سونف، کڑی پتہ، لونگ، کالی مرچ، ہری الائچی اور زیرہ ڈال کر کپڑا باندھ لیں۔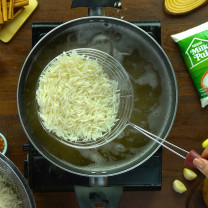 7 .
اب برتن میں پانی، بندھا ہوا کپڑ اور نمک کو گرم کریں پھر پانی کو ابال لیں اور اس میں بھیگے ہوئے چاول ڈالیں اور اسی فیصدپک جانے تک پکائیں۔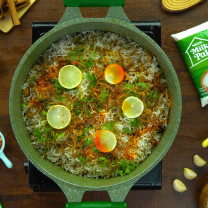 8 .
مٹن دم بریانی بنانےکے لئے مٹن مصالحہ کے برتن میں ابلے ہوئے چاول، براؤن پیاز، پیلا فوڈ کلر، کیوڑا، لیموں، ہرا دھنیا، پودینے کے پتے، خشک بریانی مصالحہ اوربچایئے ہوے آئل کی تہہ ڈال دیں۔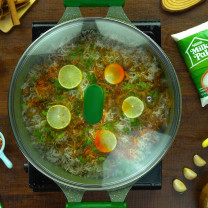 9 .
اسے ڈھانپیں اور ہلکی آنچ پردس سے بارہ منٹ تک دم دیں۔
10 .
مٹن دم بریانی تیار ہے۔