Mutton Chops Biryani
Research Content
Eid menu is incomplete without biryani so here we have mutton chops biryani which is sooper aromatic and delicious. Treat your guest with this lip smacking mutton biryani and be the star of your dawat. Do let us know your feedback if you try this recipe.
DIRECTIONS
If you are looking for some delicious recipes which are easy to make then look no further. SooperChef gives you a variety of recipes with easy step by step procedures which makes it easy to follow. Tried and tested recipes which every foodie will love to try.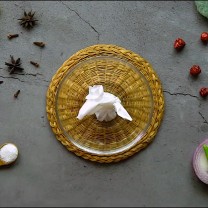 1 .
Take a piece of cheesecloth, add coriander seeds, cumin seeds, black peppercorns, cloves, cinnamon, black cardamom and star anise. Tie knot and your potli is ready.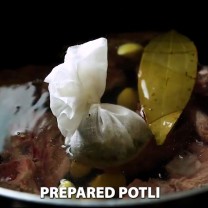 2 .
In a deep pan simmer water, add chops, bay leaf, salt, garlic cloves, ginger cube and potli. Cover and cook for 1 hour to 40 minutes on medium low flame.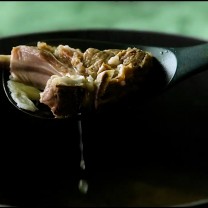 3 .
Separate the chops and set aside stock for later use.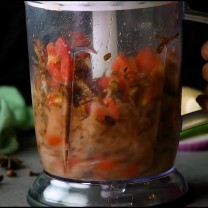 4 .
In a blender add 3/4 cup of fried onion, tomatoes and water. Blend until smooth paste is formed. Set aside.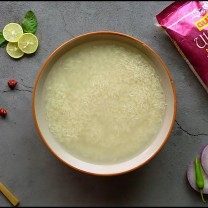 5 .
In a bowl soak Guard Basmati Rice in three cups of water for 25 minutes.
6 .
In a pan, add water, bring it to boil, and then add salt, cumin seed, vinegar, oil and bay leaf. When water starts simmering add soaked rice and boil them until 80% done.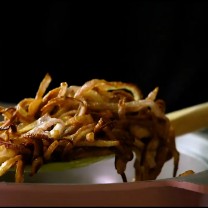 7 .
In a pan heat oil, add onion and cook until light golden brown. Take it out and set aside. In same oil add cumin seeds, green chilies, ginger garlic paste and sauté it for a minute.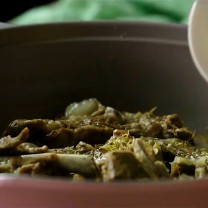 8 .
Add boiled chops, salt and fry. Add one cup prepared onion tomato paste and cook for 2 to 3 minutes. Then add red chili powder, red chili flakes, coriander powder, cumin powder, turmeric powder and cook for 5 to 6 minutes.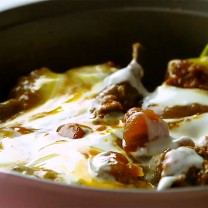 9 .
.Add yogurt, tamarind pulp, dry plum and mix. Let it simmer on low flame for 2 to 3 minutes. Take it off from flame.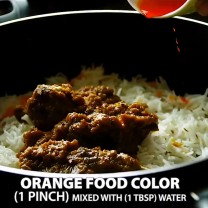 10 .
In a pan firstly add korma, cover it with boiled rice, top it again with korma masala and add garnish on top.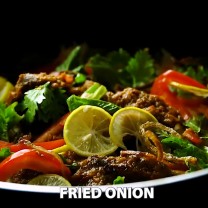 11 .
Repeat the same layering process, lastly sprinkle fried onion, food color and remaining chops stock on top. Cover and cook on medium low flame for 10 to 15 minutes.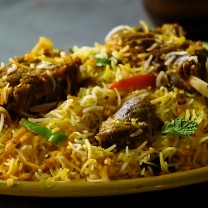 12 .
Serve your delicious chanp biryani with raita and enjoy.
DIRECTIONS
اگر آپ مزیدار اور آسان ریسپیز ڈھونڈ رہے ہیں تو آپ کو کہیں اور جانے کی ضرورت نہیں۔ سوپر شیف آپ کو مختلف اور آسان ریسپیز فراہم کرتا ہے جو کہ باآسانی بنائی جا سکتی ہیں۔ آزمودہ ریسپیز جو کہ ہر کھانے والے کی پسند بنے۔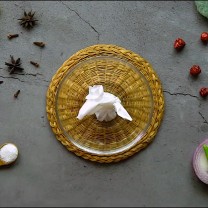 1 .
ایک ململ کا کپڑا لے کر اس میں ثابت دھنیا، ثابت ذیرہ، ثابت کالی مرچ، لونگ، دارچینی، کالی الائچی اور بادیان ڈال کر گِراہ لگا دیں، پوٹلی تیار ہے۔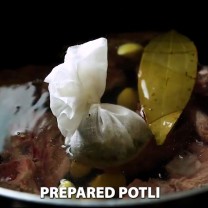 2 .
ایک برتن میں پانی ابلنے دیں اور اس میں چانپیں، کڑی پتا، نمک، لہسن کی جویں، ادرک اور پوٹلی ڈال کر ڈھکن سے ڈھک کر درمیانی ہلکی آنچ پر ایک گھنٹہ چالیس منٹ پکنے دیں۔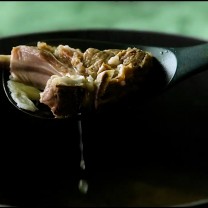 3 .
اب چانپیں اور یخنی نکال کر سائیڈ پر رکھ دیں۔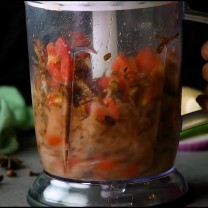 4 .
ایک بلینڈ میں تین چوتھائی کپ تلا ہوا پیاز، ٹماٹر اور پانی ڈال کر اچھی طرح بلینڈ کر کے سائیڈ پر رکھ دیں۔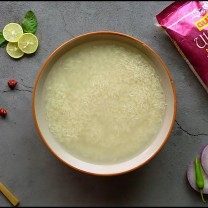 5 .
ایک برتن میں تین کپ پانی اور Guard Basmati Riceڈال کر پچیس منٹ بھگو کر رکھ دیں۔
6 .
اب ایک برتن میں پانی، نمک، ثابت ذیرہ، سرکہ، کھانے کا تیل ڈال دیں اور پھر جب پانی ابلنا شروع ہوجائے تو اس میں بھگوئے ہوئے چاول ڈال کر اسی فیصد تک ابال لیں۔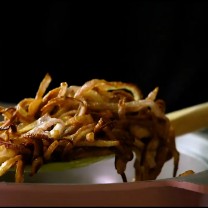 7 .
ایک پین میں کھانے کا تیل گرم کرکے پیاز ڈالیں اور گولڈن براؤن ہونے تک پکائیں۔اب اسی آئل میں ثابت ذیرہ، سبز مرچیں اور ادرک لہسن پیسٹ ڈال کر ایک منٹ تک بھون لیں۔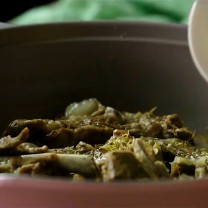 8 .
پھر اس میں ابلی ہوئی چانپیں اور نمک ڈال کر فرائی کر لیں۔اب اس میں تیار کی ہوئی پیاز، ٹماٹر پیسٹ ڈال کر دو سے تین منٹ پکائیں۔پھر اس میں لال مرچ پاؤڈر، کٹی لال مرچیں، دھنیا پاؤڈر اور ہلدی پاؤڈر ڈال کر پانچ سے چھ منٹ پکائیں۔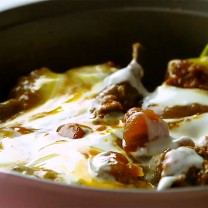 9 .
اب اس میں دہی، املی کا گودا اور خشک آلو بخارا ڈال کر اچھی طرح مکس کریں اورہلکی آنچ پر دو سے تین منٹ ابلنے دیں۔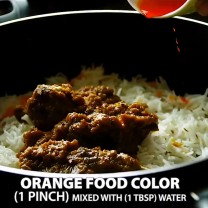 10 .
ایک برتن میں سب سے پہلے قورمہ اور اس پر ابلے ہوئے چاول ڈال دیں۔اب پھر اس پر قورمہ مصالحہ ڈال کر گارنش کے اجزا ڈال دیں۔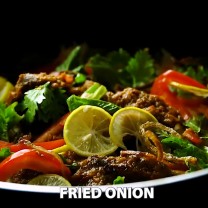 11 .
پھر اسی طرح کی دوبارہ ایک تہہ لگائیں۔اب آخر میں اس پر تلا ہوا پیاز، کھانے کا رنگ اور بچی ہوئی یخنی ڈال دیں۔پھر ڈھکن سے ڈھانپ درمیانی ہلکی آنچ پر دس سے پندرہ منٹ پکائیں۔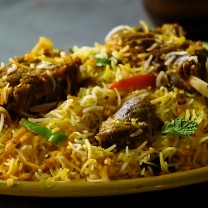 12 .
مزیدار چانپ بریانی تیار ہے، رائتہ کے ساتھ سرو کریں۔