Mini Sausage Crusted Pizza Recipe
Mini Sausage Crusted Pizza Recipe
Mini Sausage Crusted Pizza is an innovation to your regular pizza recipe. These K&N's Mini Franks Sausage filled crust pizza will double the joy of any occasion. Try out these Mini Sausage Crusted Pizza today and share your feedback with us.
Ingredients
Ingredients for Pizza Dough:
Ingredients for Butter mixture:
DIRECTIONS
If you are looking for some delicious recipes which are easy to make then look no further. SooperChef gives you a variety of recipes with easy step by step procedures which makes it easy to follow. Tried and tested recipes which every foodie will love to try.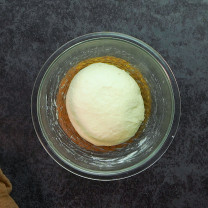 1 .
In a bowl, add all-purpose flour, yeast, salt, sugar, water, and knead a smooth dough.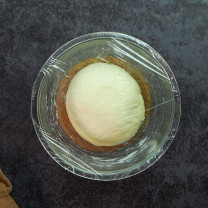 2 .
Grease the bowl with oil and cover the bowl with cloth and let it rest until it becomes double in size. Set it aside.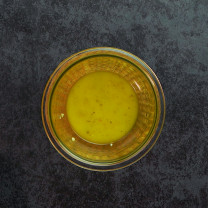 3 .
In a bowl, add melted butter, minced garlic, and oregano. Brush the sides of the pizza crust generously.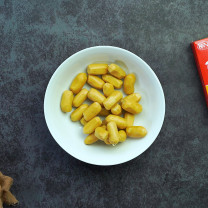 4 .
Thaw K&N's Mini Franks Sausage as per instructions on the pack. Cut few K&N's Mini Franks Sausage into slices. Set aside.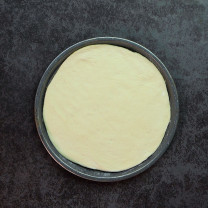 5 .
Take the prepared dough and divide it into 4 equal parts. Take one part and roll out on a lightly dusted all-purpose flour surface.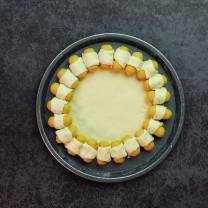 6 .
In the center of the dough spread pizza sauce generously leaving 2 inches from the edges. Spread grated mozzarella cheese again leaving 2 inches from around the edges. Add half of each sliced K&N's Mini Franks Sausages, onions, sweet corns, black olives, and capsicum.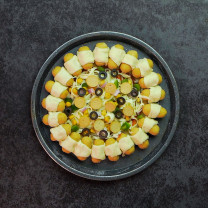 7 .
Add K&N's Mini Franks Sausages around the edges leaving one finger distance between them. Cut the dough from the left and right sides of each sausage. Roll the sausage toward the center of the dough until it reaches the pizza sauce. Secure the end by pressing and twist the sausage upward. Repeat the process for all the sausages.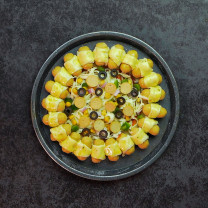 8 .
Brush the sausage filled dough with butter mixture.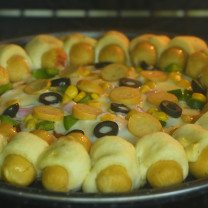 9 .
Transfer the pizza to a greased baking tray and bake it at 180°C for 10-12 minutes or until the cheese melts and the crust becomes lightly golden.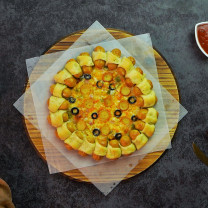 10 .
When baked, remove the pizza from the oven and brush it again with butter mixture.
DIRECTIONS
اگر آپ مزیدار اور آسان ریسپیز ڈھونڈ رہے ہیں تو آپ کو کہیں اور جانے کی ضرورت نہیں۔ سوپر شیف آپ کو مختلف اور آسان ریسپیز فراہم کرتا ہے جو کہ باآسانی بنائی جا سکتی ہیں۔ آزمودہ ریسپیز جو کہ ہر کھانے والے کی پسند بنے۔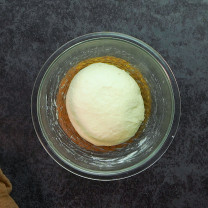 1 .
ڈو بنانے کے لئے ایک باؤل میں میدہ، خمیر، نمک، چینی اور پانی ڈال کرنرم ڈو گوندھ لیں۔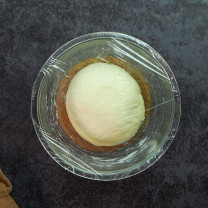 2 .
اب ایک باؤل کو کھانے کے تیل سے گریس کرکے باؤل کو کپڑے سے ڈھک کر سائز میں ڈبل ہونے تک رکھ دیں اور سائیڈ پر رکھ دیں۔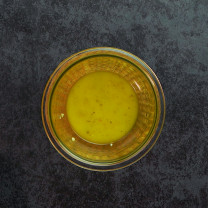 3 .
مکھن مکسچر بنانے کے لئے ایک باؤل میں پگھلا ہوا مکھن، کٹا لہسن اور اوریگانو ڈال کر پیزا کرسٹک کی سائیڈوں پر برش کریں۔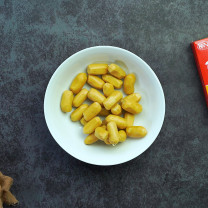 4 .
اسمبلنگ کے لئے پیک پر دی گئی ہدایات کے مطابق مِنی فرینکس ساسیج کو نرم کر لیں اور ساسیج کو سلائسوں میں کاٹ لیں۔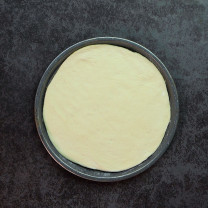 5 .
اب تیار ڈو کو چار برابر حصوں میں کاٹ لیں۔پھر ایک حصہ لے کر بیل لیں۔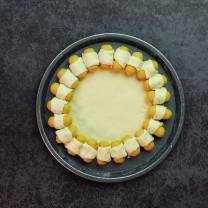 6 .
ڈو کے کناروں پر ایک انگلی کا فاصلہ چھوڑ کر چھری سے کٹ لگائیں۔پیز ا ڈو کی سائیڈوں پر مِنی فرینکس ساسیج کرسٹ کر لیں۔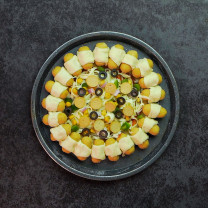 7 .
اب ڈو کے درمیان میں پیزا سوس پھیلا کراس پر موزریلا چیزپھیلائیں۔پھر اس پرکٹے ہوئے مِنی فرینکس ساسیج، پیاز، سویٹ کارنز، کالا زیتون اور شملہ مرچ رکھ دیں۔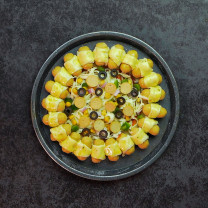 8 .
پھر ساسیج پر مکھن مکسچر بر ش کریں۔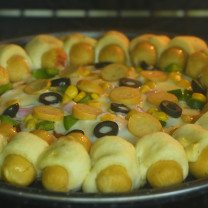 9 .
پیزا کو گریس کی ہوئی بیکنگ ٹرے میں ڈال کر ایک سو اسی کے درجہ حرارت پر دس سے بارہ منٹ تک بیک کریں۔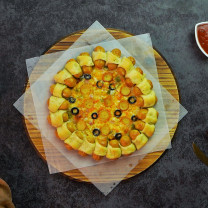 10 .
پیزا کو اوون سے نکال کر مکھن کے مکسچر سے دوبارہ برش کریں اور سرو کریں۔