Restaurant Style Chicken Changezi Recipe by SooperChef
Restaurant Style Chicken Changezi Recipe by SooperChef
Get ready for a mouthwatering journey with our Chicken Changezi recipe. Learn how to make Restaurant-Style Chicken Changezi at home and share your feedback with us.
Ingredients
Ingredients for Onion Cashew Nut Paste:
Ingredients for Chicken Preparation:
Ingredients for Chicken Changezi:
DIRECTIONS
If you are looking for some delicious recipes which are easy to make then look no further. SooperChef gives you a variety of recipes with easy step by step procedures which makes it easy to follow. Tried and tested recipes which every foodie will love to try.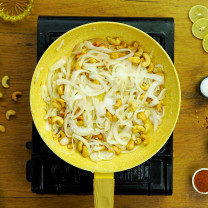 1 .
In a pan heat oil and onion, cashew nuts and cook until onion gets soft.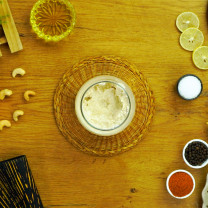 2 .
Transfer this mixture to a glass jar and blend it well to form a paste. Set aside.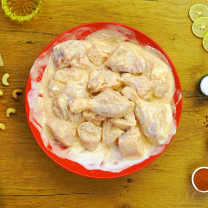 3 .
In a bowl add chicken, yogurt, red chili powder, salt, ginger garlic paste, lemon juice and mix it well. Let it rest for 10-15 mins.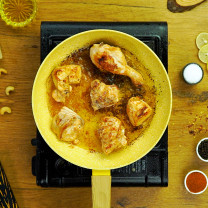 4 .
In a pan heat oil and add marinated chicken. Cook each side until golden in color. Set aside.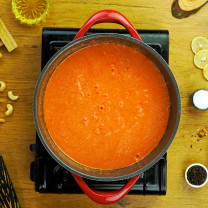 5 .
In a pot heat oil and add tomato puree and ginger garlic paste and cook for 1-2 mins. Add onion cashew nut paste and cook for 3-4 mins.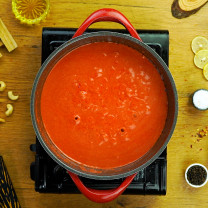 6 .
Now add red chili powder, Kashmiri red chili powder, coriander powder, salt and cook for a minute.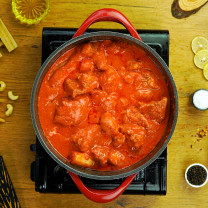 7 .
Add milk and cook for 1-2 mins. Now add prepared chicken and cook for 5-7 mins on low heat.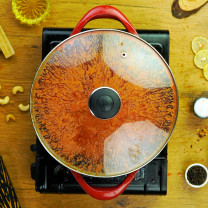 8 .
Now cover and cook until chicken is fully done and oil separates.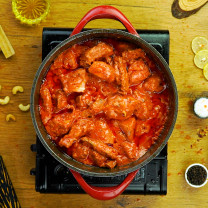 9 .
Add cream, dried fenugreek, garam masala powder and cook for 1-2 mins.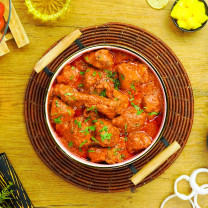 10 .
Now dish it out and garnish with green coriander. Your Restaurant Style Chicken Changezi is ready. Serve and enjoy.
DIRECTIONS
اگر آپ مزیدار اور آسان ریسپیز ڈھونڈ رہے ہیں تو آپ کو کہیں اور جانے کی ضرورت نہیں۔ سوپر شیف آپ کو مختلف اور آسان ریسپیز فراہم کرتا ہے جو کہ باآسانی بنائی جا سکتی ہیں۔ آزمودہ ریسپیز جو کہ ہر کھانے والے کی پسند بنے۔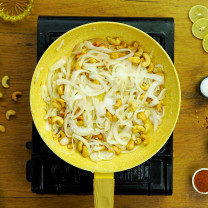 1 .
پیاز اورکاجو پیسٹ بنانے کے لئیایک پین میں کھانے کا تیل گرم کر کے اس میں پیازاورکاجو ڈال کر پیاز کے نرم ہونے تک پکائیں۔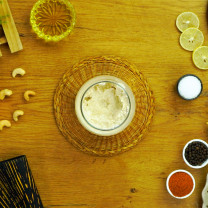 2 .
اب اس مکسچر کو بلینڈر میں ڈال کر اسے اچھی طرح بلینڈ کر کے پیسٹ بنا لیں۔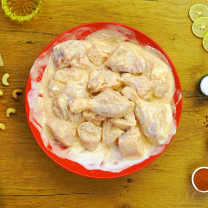 3 .
چکن کی بنانے کے لیے ایک باؤل میں چکن، دہی، لال مرچ پاؤڈر، نمک، ادرک لہسن کا پیسٹاور لیموں کا رس ڈال کر اچھی طرح مکس کرکے دس سے پندرہ منٹ تک میرینیٹ کر دیں۔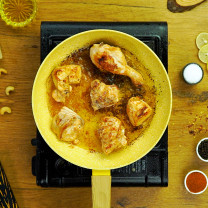 4 .
پھرایک پین میں کھانے کا تیل گرم کریں اور میرینیٹ کیا ہواچکن ڈال کرسنہری ہونے تک پکائیں۔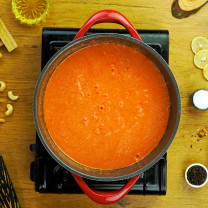 5 .
چکن چنگیزی بنانے کے لیے ایک برتن میں کھانے کا تیل گرم کریں اور اس میں ٹماٹرکی پیوری اور ادرک لہسن کا پیسٹ ڈال کرایک سے دومنٹ تک پکائیں پھرپیازاور کاجو کا پیسٹ ڈال کر تین سے چارمنٹ تک پکائیں۔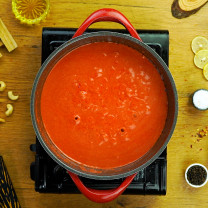 6 .
ھر اس میں لال مرچ پاؤڈر، کشمیری لال مرچ پاؤڈر، دھنیا پاؤڈر، نمک ڈال کر ایک منٹ تک پکائیں۔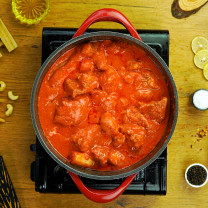 7 .
اب اس میں دودھ ڈال کر ایک سے دو منٹ تک پکائیں پھرتیار کیا چکن ڈال کر ہلکی آنچ پرپانچ سے ساتھمنٹ تک پکائیں۔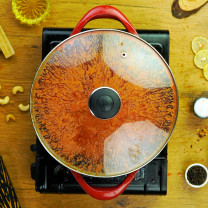 8 .
پھر اسے ڈھانپیں اور اس وقت تک پکائیں جب تک چکن پوری طرح گل نا جائے اورکھانے کا تیل الگ نہ ہوجائے۔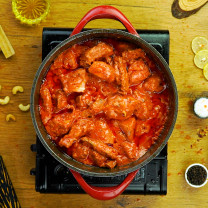 9 .
اب اس میں کریم، خشک میتھی، گرم مصالحہ پاؤڈر ڈال کر ایک سے دومنٹ تک پکائیں۔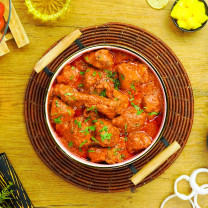 10 .
چکن چنگیزی تیار ہے۔ دھنیے سے گارنش کریں۔