Mutton Raan Masala Recipe | Bakra Eid Special Recipes by SooperChef
Mutton Raan Masala Recipe | Bakra Eid Special Recipes by SooperChef
Mutton Raan Masala is here to treat your tastebuds with ultimate deliciousness this Bakra Eid. Try out this Mutton Raan Masala made with National Chicken Tandoori Recipes Mix and share your feedback with us.

Ingredients
Ingredients for Raan Marination
DIRECTIONS
If you are looking for some delicious recipes which are easy to make then look no further. SooperChef gives you a variety of recipes with easy step by step procedures which makes it easy to follow. Tried and tested recipes which every foodie will love to try.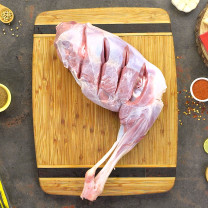 1 .
Take mutton raan and place deep cuts on it with knife.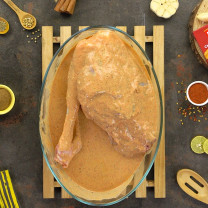 2 .
In a bowl add yogurt, lemon juice, ginger garlic paste, papaya paste, and National Chicken Tandoori Recipe Mix. Mix it well and pour it on Mutton Raan. Marinate it for 3-4 hours. Note: Reserve the leftover marinade for later use.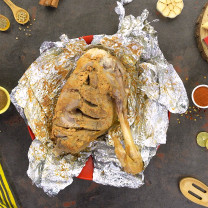 3 .
Now take the marinated mutton raan and wrap it in foil paper. Place it in a steamer. Now cover and steam for 20-25 mins. take it out of the steamer and set aside.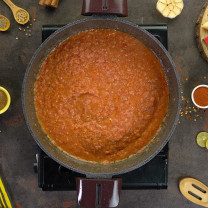 4 .
In a preheated pot add oil, onion paste and cook it for a min. now add ginger garlic paste mix it for a min.Now add tomato puree, mix it well and reserved marinade. Cook it until the oil separates.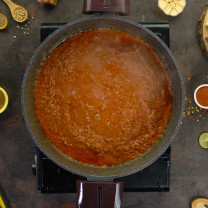 5 .
Now add National Chicken Tandoori Recipe Mix and mix it again.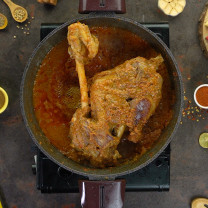 6 .
Add steamed mutton raan, water. Add the prepared masala on the raan. Cover and cook for 20 mins or until fully done.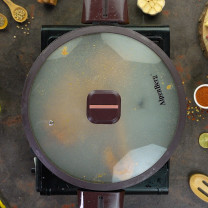 7 .
Now put the heated coal in aluminum cup in the middle. Drizzle some oil and give a smoke for 1-2 mins by covering with lid.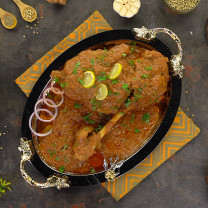 8 .
Now dish it out, garnish it with lemon slices, onion rings, green coriander and serve. Your Mutton Raan Masala is ready.
DIRECTIONS
اگر آپ مزیدار اور آسان ریسپیز ڈھونڈ رہے ہیں تو آپ کو کہیں اور جانے کی ضرورت نہیں۔ سوپر شیف آپ کو مختلف اور آسان ریسپیز فراہم کرتا ہے جو کہ باآسانی بنائی جا سکتی ہیں۔ آزمودہ ریسپیز جو کہ ہر کھانے والے کی پسند بنے۔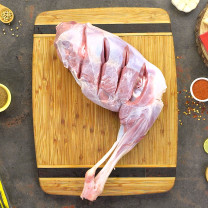 1 .
ران کی تیارکرنے کے لیے مٹن ران لیں اور اس پر چاقو سے گہرے کٹے لگا دیں۔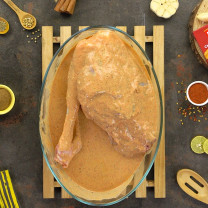 2 .
اب ایک پیالے میں دہی، لیموں کا رس، ادرک لہسن کا پیسٹ، پپیتا پیسٹ، اور نیشنل چکن تندوری ریسپی مکس ڈال کر اسے اچھی طرح مکس کر کے مٹن ران پر ڈال دیں پھر اسے تین سے چار گھنٹے کے لیے میرینیٹ کریں نوٹ: بچا ہوا میرینیڈ بعد میں استعمال کے لیے محفوظ کر لیں۔۔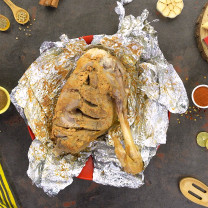 3 .
پھر میرینیٹ کیا ہوامٹن ران لیں اور اسے فوئل پیپر میں لپیٹ لیں اب اسے سٹیمر میں رکھ کر ڈھکن سے ڈھانپ کربیس سے پچیس منٹ تک بھاپ دیں پھر اسے سٹیمر سے نکال کر ایک سا ئیڈپر رکھ دیں۔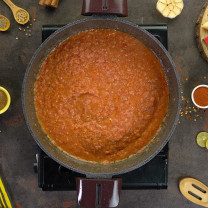 4 .
ران مصا لحہ بنانے کے لئے پہلے سے گرم کیے ہوئے برتن میں تیل اورپیاز کا پیسٹ ڈال کر ایک منٹ تک پکائیں پھر اس میں ادرک لہسن کا پیسٹ ڈال کر ایک منٹ کے لیے مکس کرکے اسے اس وقت تک پکائیں جب تک کہ تیل الگ نہ ہوجائے۔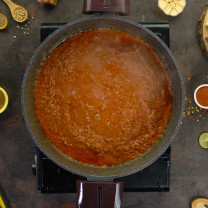 5 .
اب نیشنل چکن تندوری ریسپی مکسڈال کر اسے دوبارہ مکس کریں۔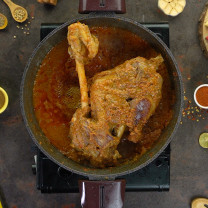 6 .
پھرابلی ہوئی مٹن ران، پانی اور تیار مصالحہ ران پر ڈال کر ڈھکن سے ڈھانپیں اور بیسمنٹ یاپوری طرح پکنے تک پکائیں۔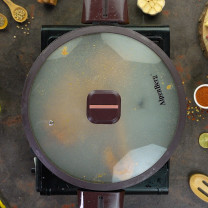 7 .
اب درمیان میں ایلومینیم کے کپ میں گرم کیے ہوئے کوئلے کو رکھیں اور تھوڑا ساکھانے کا تیل ڈال کر ڈھکن سے ڈھک کر ایک سے دو منٹ تک دھواں دیں۔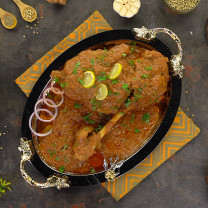 8 .
پھراسے ڈش میں نکال کر لیموں کے ٹکڑوں، پیاز کے چھلے،اور ہرا دھنیا سے گارنش کریں اور سرو کریں۔مٹن ران مصا لحہ تیار ہے۔