Chicken Tikka Masala Recipe by SooperChef
Chicken Tikka Masala Recipe by SooperChef
Indulge in the irresistible flavors of Chicken Tikka Masala with our step-by-step cooking tutorial. Learn to create the perfect balance of aromatic spices and creamy tomato-based sauce in this authentic Indian curry. Whether you're a seasoned chef or a cooking novice, this recipe will guide you through the process of making a mouthwatering Chicken Tikka Masala that's sure to impress. Get ready to embark on a culinary journey that brings the essence of India's rich flavors right to your plate.

Ingredients
Ingredients for Chicken Preparation
Ingredients for Creamy Tikka Masala
DIRECTIONS
If you are looking for some delicious recipes which are easy to make then look no further. SooperChef gives you a variety of recipes with easy step by step procedures which makes it easy to follow. Tried and tested recipes which every foodie will love to try.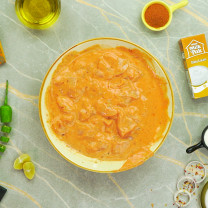 1 .
In a bowl add NESTLÉ MILKPAK Yogurt, ginger garlic paste, lemon juice, red chili flakes, tikka masala, orange food color and boneless chicken. Marinate it for 15 minutes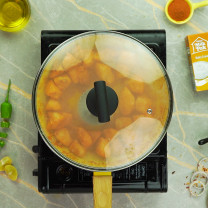 2 .
In a pan heat oil and marinated chicken and cook until it's 80% done. Turn off the flame and give it coal smoke for 1-2 mins. set aside.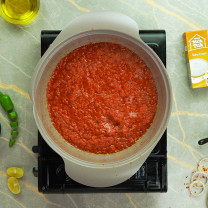 3 .
In a pot heat oil then add chopped onion and saute for a minute. Add tomato puree, tomato paste in it and cook for 2-3 minutes.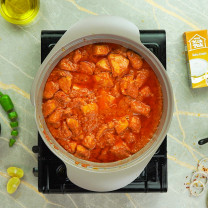 4 .
Add cooked chicken add cook for another 2-3 mins. add coriander powder, red chili powder, salt and cook for 2-3 mins.Add hot water and cook until chicken is fully done.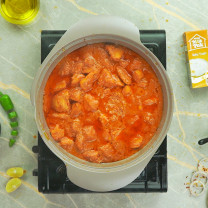 5 .
Now add NESTLÉ MILKPAK Dairy Cream and cook for a minute.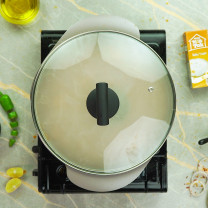 6 .
Now turn off the flame and give it coal smoke for 1-2 minutes.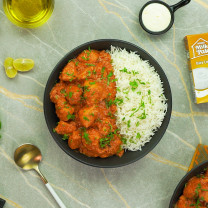 7 .
Your Creamy Tikka Masala is ready.Serve it with Boiled Rice and enjoy.
DIRECTIONS
اگر آپ مزیدار اور آسان ریسپیز ڈھونڈ رہے ہیں تو آپ کو کہیں اور جانے کی ضرورت نہیں۔ سوپر شیف آپ کو مختلف اور آسان ریسپیز فراہم کرتا ہے جو کہ باآسانی بنائی جا سکتی ہیں۔ آزمودہ ریسپیز جو کہ ہر کھانے والے کی پسند بنے۔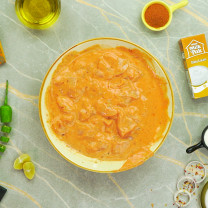 1 .
چکن مرینیٹ کر نے کے لئے ایک پیالے میں نیسلے ملک پیک دہی، ادرک لہسن کا پیسٹ، لیموں کا رس،کٹی لال مرچیں، تکہ مصالحہ، اورنج فوڈ کلر اور بونلیس چکن ڈال کر پندرہ منٹ تک میرینیٹ کریں۔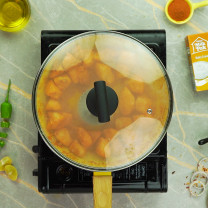 2 .
ایک پین میں کھانے کا تیل اور میرینیٹ کیا ہواچکن ڈال کر گرم کریں اور اسی فیصدتک پک جانے تک پکائیں اب چولہہ بند کر دیں اورایک سے دومنٹ تک کوئلے کا دھواں دیں۔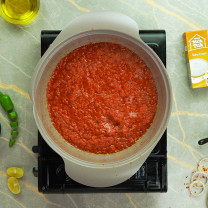 3 .
کریمی تکہ مصالحہ بنانے کے لئے ایک برتن میں کھانے کا تیل گرم کریں پھر اس میں کٹی پیاز ڈال کر ایک منٹ کے لیے بھونیں پھراس میں ٹماٹر کی پیوری، ٹماٹر کا پیسٹ ڈال کر دو سے تین منٹ تک پکائیں۔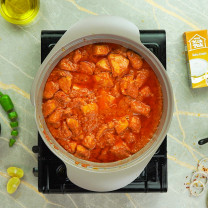 4 .
اب اس میں پکا ہوا چکن ڈال کرکے مزید دو سے تین منٹ تک پکائیں پھردھنیا پاؤڈر، لال مرچ پاؤڈراور نمک ڈال کردو سے تین منٹ تک پکائیں،اب اس میں گرم پانی ڈالیں اور چکن پوری طرح پک جانے تک پکائیں۔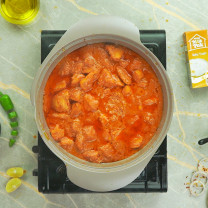 5 .
اب اس میں نیسلے ملک پیک ڈیری کریم ڈال کر ایک منٹ تک پکائیں۔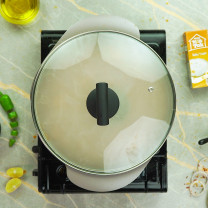 6 .
پھر چولہہ بند کر دیں اورایک سے دومنٹ تک کوئلے کا دھواں دیں۔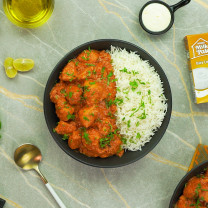 7 .
کریمی تکہ مصالحہ تیار ہے۔ اسے ابلے ہوئے چاولوں کے ساتھ سرو کریں۔