Tortilla Cheesy Melts With Chapli Kabab Recipe
Tortilla Cheesy Melts With Chapli Kabab Recipe
Research Content
Tortilla Cheesy Melts Recipe has a beautiful combo with K&N's Chapli Kabab. Give try to this scrumptious Tortilla Cheesy Melts Recipe a try and share your experience with us.
DIRECTIONS
If you are looking for some delicious recipes which are easy to make then look no further. SooperChef gives you a variety of recipes with easy step by step procedures which makes it easy to follow. Tried and tested recipes which every foodie will love to try.
1 .
In a large bowl, combine flour and salt. Stir in water and oil. Turn onto a floured surface; knead 10-12 times, adding a little flour or water if needed to achieve a smooth dough. Let rest for 10 minutes.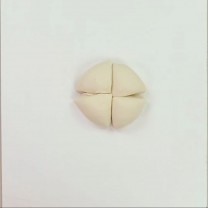 2 .
Divide dough into eight portions. On a lightly floured surface, roll each portion into a circle.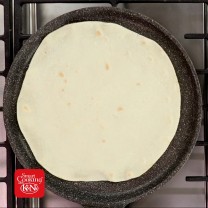 3 .
Grease a flat pan with oil, cook tortillas over medium heat for 1 minute on each side or until lightly browned.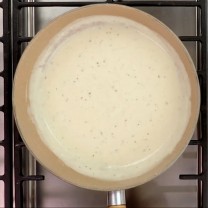 4 .
In a saucepan melt butter, add flour and cook it for 1 to 2 minutes. Add milk gradually and keep on whisking to keep it smooth. Add salt, onion powder and white pepper and mix well. Cook over medium low flame, whisking continuously until slightly thick. Remove from heat, add cheese and stir until cheese melt.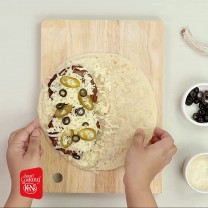 5 .
Take tortilla spread creamy cheese sauce evenly. Place two K&N's Chapli kabab on one side, top it with olives, jalapeno, mozzarella slice and close it.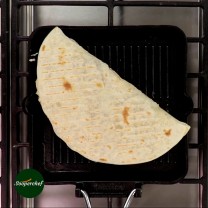 6 .
Grease a grill pan with butter, toast tortillas on it until cheese melts.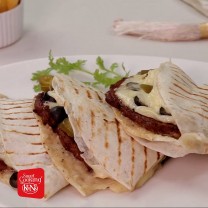 7 .
Serve hot with garlic mayo dipping.
DIRECTIONS
اگر آپ مزیدار اور آسان ریسپیز ڈھونڈ رہے ہیں تو آپ کو کہیں اور جانے کی ضرورت نہیں۔ سوپر شیف آپ کو مختلف اور آسان ریسپیز فراہم کرتا ہے جو کہ باآسانی بنائی جا سکتی ہیں۔ آزمودہ ریسپیز جو کہ ہر کھانے والے کی پسند بنے۔
1 .
ایک باؤل میں پانی اور کھانے کا تیل ڈال کر اس میں میدہ اور نمک ڈال کر اچھی طرح مکس کرلیں۔اب ڈو کو دس سے پندرہ بار گوندھ لیں اور ضرورت کے حساب سے پانی یا میدہ ڈالیں جب تک ڈوٹھیک سے تیار ہوجائے۔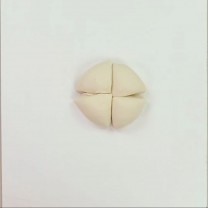 2 .
پھر ڈو کودس منٹ کے لئے سائیڈ پر رکھ دیں او ر ڈو کو آٹھ برابر حصوں میں کاٹ لیں۔اب ہر حصے کو گولائی میں بیل لیں۔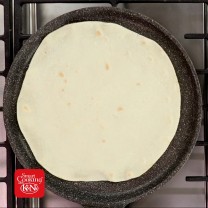 3 .
پھرایک فلیٹ پین کو کھانے کے تیل کے ساتھ گریس کر لیں اور ٹورٹیلا کو درمیانی آنچ پر ہر سائیڈ سے ایک منٹ تک پکائیں یا جب تک ہلکا براؤن ہوجائے۔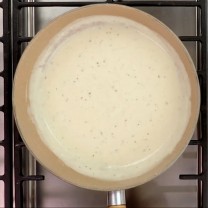 4 .
ایک پین میں مکھن کو پگھلا کر اس میں میدہ ڈال کر ایک سے دو منٹ کے لئے پکائیں۔اب اس میں تھوڑا تھوڑا کر کے دودھ ڈالیں اور مکس کرتے جائیں۔پھر اس میں نمک، پیاز پاؤڈر اور سفید مرچ ڈال کر اچھی طرح مکس کریں اور درمیانی آنچ پر اچھی طرح پکائیں۔اب چولہا بند کر کے اس میں چیز ڈالیں اور چیز پگھلنے تک پکائیں۔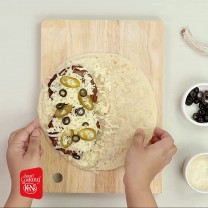 5 .
ایک ٹورٹیلا لیں اس پر کریمی چیز ساس ا چھی طرح پھیلا دیں۔اب اس کی ایک سائیڈ پر دو چپلی کباب رکھیں اور اس پر کالا زیتون، جیلپینو اور چیز سلائس رکھ دیں۔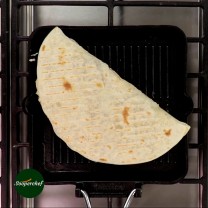 6 .
پھر ایک گرِل پین کو مکھن سے گریس کر لیں اور ٹورٹیلا کو اس پر سینک لیں جب تک چیز پگھل جائے۔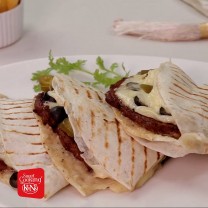 7 .
گارلک مایو کے ساتھ سرو کریں۔