Tandoori Chicken Boti with Yogurt Sauce
Tandoori Chicken Boti with Yogurt Sauce
A complete definition of spices Tandoori Chicken Boti has an awesome aroma and is full of flavors. Give it a try and share your experience.

Ingredients
Ingredients for Tandoori Chicken Boti:
Ingredients for Yogurt Sauce:
Ingredients for Assembling:
DIRECTIONS
If you are looking for some delicious recipes which are easy to make then look no further. SooperChef gives you a variety of recipes with easy step by step procedures which makes it easy to follow. Tried and tested recipes which every foodie will love to try.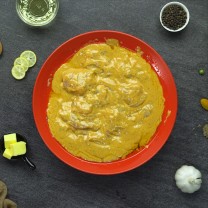 1 .
In a bowl add yogurt, oil, paprika, salt, red chili powder, turmeric powder, ginger garlic paste, lemon juice, red chili flakes, cumin powder, garam masala powder, coriander powder, chaat masala, dried fenugreek, orange food color, chicken and mix well. Marinate the chicken for 2 hours.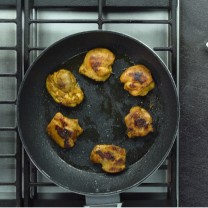 2 .
In a pan heat oil and add marinated chicken, cook each side until chicken is fully done.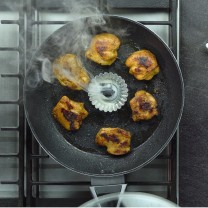 3 .
Turn off flame and place the aluminum cup in center. Place hot coal piece, drizzle oil and cover the pan with lid. Smoke for 2-3 minutes.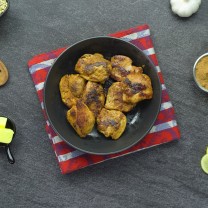 4 .
Take off lid, transfer the prepared tandoori chicken boti into bowl and sprinkle chaat masala on them. Mix it well and your Tandoori Chicken Boti is ready. Set aside.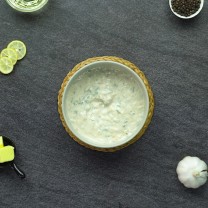 5 .
In a bowl add yogurt, onion, coriander, mint leaves, salt, black pepper, chaat masala and mix well.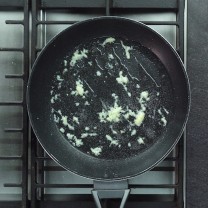 6 .
In a pan heat oil and ginger garlic paste and cook for 2-3 minutes.
7 .
Add prepared yogurt sauce, cumin powder and cook for 3 minutes on medium flame. Your Yogurt Sauce is ready. Set aside.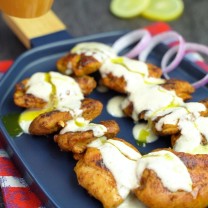 8 .
Place prepared Tandoori Chicken Boti in a dish, drizzle prepared yogurt sauce on them. Pour some cream and melted butter on top.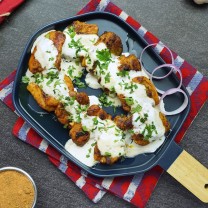 9 .
Garnish with coriander and serve. Enjoy your Tandoori Chicken Boti with Yogurt sauce.
DIRECTIONS
اگر آپ مزیدار اور آسان ریسپیز ڈھونڈ رہے ہیں تو آپ کو کہیں اور جانے کی ضرورت نہیں۔ سوپر شیف آپ کو مختلف اور آسان ریسپیز فراہم کرتا ہے جو کہ باآسانی بنائی جا سکتی ہیں۔ آزمودہ ریسپیز جو کہ ہر کھانے والے کی پسند بنے۔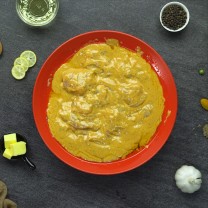 1 .
تندوری چکن بوٹی بنانے کے لئے ایک باؤل میں دہی، کھانے کا تیل، پیپریکا، نمک، سرخ مرچ پاؤڈر، ہلدی پاؤڈر، ادرک لہسن پیسٹ، لیموں کارس، کٹی سرخ مرچیں، زیرہ پاؤڈر، گرم مصالحہ پاؤڈر، دھنیا پاؤڈر، چاٹ مصالحہ، خشک میتھی، مالٹا کھانے کا رنگ اور چکن ڈال کر اچھی طرح مکس کرکے دو گھنٹے میرینیٹ ہونے کے لئے رکھ دیں۔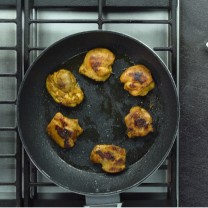 2 .
اب ایک پین میں کھانے کا تیل گرم کرکے اس میں میرینیٹ کیا ہوا چکن ڈال کر ہر سائیڈ سے اچھی طرح پکا لیں۔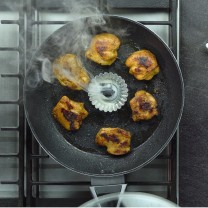 3 .
پھر چولہا بند کرکے اس کے درمیان ایلومینیم کپ رکھ کر کوئلے سے دو سے تین منٹ دھواں دیں۔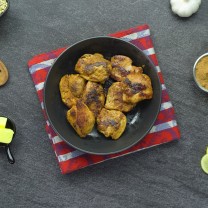 4 .
اب ڈھکن اتار کر تیار کی ہوئی چکن تندوری بوٹی ایک باؤل میں ڈالیں اور اس پر چاٹ مصالحہ چھڑک کر اچھی طرح مکس کریں۔مزیدار تندوری چکن بوٹی تیار ہے۔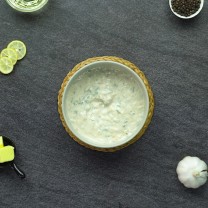 5 .
یوگرٹ سوس بنانے کے لئے ایک باؤل میں دہی، پیاز، دھنیا، پودینہ، نمک، کالی مرچیں اور چاٹ مصالحہ ڈال کر اچھی طرح مکس کر لیں۔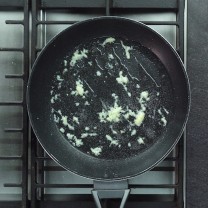 6 .
اب ایک پین میں کھانے کا تیل گرم کرکے ا س میں ادرک لہسن پیسٹ ڈال کر دو سے تین منٹ پکائیں۔
7 .
پھر اس میں تیار کی ہوئی یوگرٹ سوس اور زیرہ پاؤڈر ڈال کر درمیانی آنچ پر تین منٹ پکائیں۔یوگرٹ سوس تیار ہے۔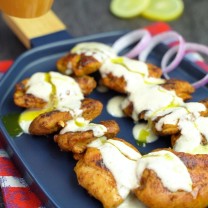 8 .
اسمبلنگ کے لئے سرونگ ڈِش میں تیار کی ہوئی تندوری چکن بوٹی رکھیں اور اس پر تیار کی ہوئی یوگرٹ سوس ڈالیں۔اب اس پر کریم اور پگھلا ہوا مکھن ڈالیں۔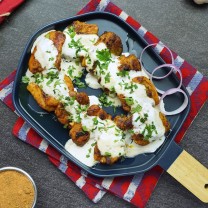 9 .
دھنیے سے گارنش کریں۔مزیدار تندوری چکن بوٹی وِد یوگرٹ سوس تیار ہے۔