Red Velvet Brownies | Dessert
Red Velvet Brownies | Dessert
Research Content
Red Velvet Brownies: The perfect Red Velvet Brownies you're looking for. Try this super moist and creamy texture Red Velvet Brownies and share your feedback with us.
DIRECTIONS
If you are looking for some delicious recipes which are easy to make then look no further. SooperChef gives you a variety of recipes with easy step by step procedures which makes it easy to follow. Tried and tested recipes which every foodie will love to try.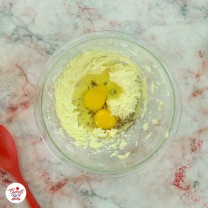 1 .
Beat butter and sugar until dissolve and color batter's changes. Then add eggs and mix.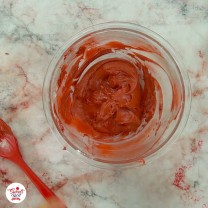 2 .
Then add vanilla extract, vinegar, red food color, cocoa powder and mix with beater. Add flour and mix it with spatula until well combined.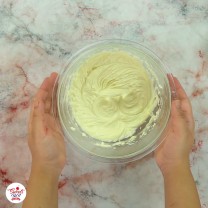 3 .
Then in a bowl add cream cheese, sugar, vanilla extract, egg and mix well with a beater.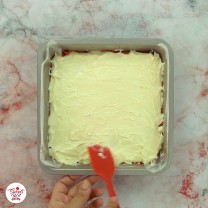 4 .
Take a brownie mold, add brownie batter and spread it evenly. Separate 1/4 cup of batter. Now spread cream cheese mixture on top and spread it evenly.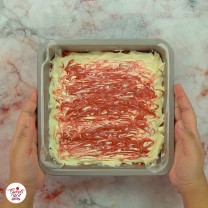 5 .
Now add remaining brownie batter on top and make swirls with help of a toothpick.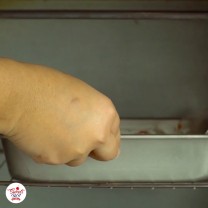 6 .
Now bake on 180 degree for 20 to 25 minutes. When it's ready let it cool down.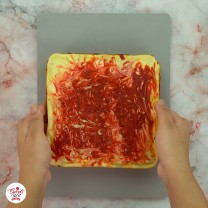 7 .
Put it in refrigerator for 10 to 15 minutes. When it's cool down cut into squares and serve.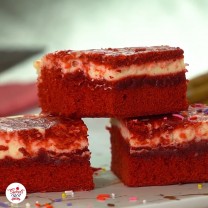 8 .
Tasty Red Velvet Brownies are ready to serve.
DIRECTIONS
اگر آپ مزیدار اور آسان ریسپیز ڈھونڈ رہے ہیں تو آپ کو کہیں اور جانے کی ضرورت نہیں۔ سوپر شیف آپ کو مختلف اور آسان ریسپیز فراہم کرتا ہے جو کہ باآسانی بنائی جا سکتی ہیں۔ آزمودہ ریسپیز جو کہ ہر کھانے والے کی پسند بنے۔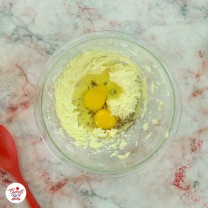 1 .
ایک باؤل میں مکھن اور چینی کو اچھی طرح پھینٹ لیں اور پھر اس میں انڈے ڈال کر اچھی طرح مکس کریں۔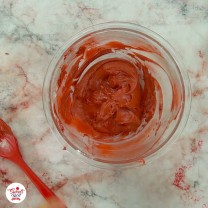 2 .
اب اس میں ونیلا، سرکہ، لال کھانے کا رنگ اور کوکوا پاؤ ڈر ڈال کر اچھی طرح مکس کریں۔پھر اس میں میدہ ڈال کر اچھی طرح مکس کریں۔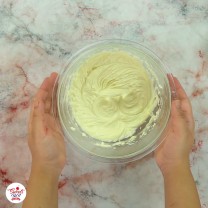 3 .
ایک باؤل میں کریم چیز، چینی، ونیلا اور انڈے ڈال کر اچھی طرح مکس کریں۔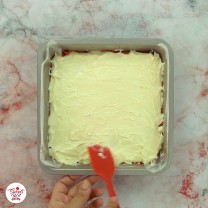 4 .
ایک براؤنی مولڈ لیں اس میں اچھی طرح تیار کیا ہوا براؤنی بیٹرپھیلائیں اور ایک چوتھائی حصہ الگ کرلیں۔اب اس پر اچھی طرح کریم چیز مکسچر پھیلائیں۔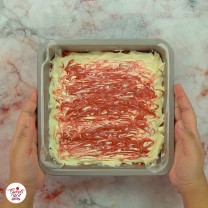 5 .
پھر اس پر بچا ہو ایک چوتھائی حصہ براؤنی بیٹر ڈال کر اپنی مرضی سے ڈیزائن بنا لیں۔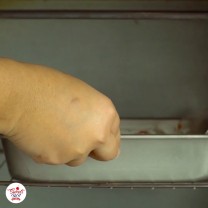 6 .
اب ایک سو اسی کے ٹمپریچر پر بیس سے پچیس منٹ بیک کر لیں اور ٹھنڈا ہونے دیں۔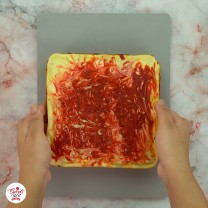 7 .
پھر دس سے پندرہ منٹ فریج میں رکھ دیں اور پھر چکور میں کاٹ کر سرو کریں۔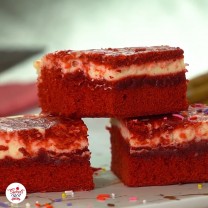 8 .
مزیدار براؤنیز تیار ہیں۔