Pastrami Box Patties Recipe
Pastrami Box Patties Recipe
Pastrami Box Patties is a quick savory snack to kill your hunger craving at teatime. This appetizing meal is made with K&N's Pastrami Strips which gives an extra taste to it. Try out these cheesy Pastrami Box Patties and let us know how they turned out.
DIRECTIONS
If you are looking for some delicious recipes which are easy to make then look no further. SooperChef gives you a variety of recipes with easy step by step procedures which makes it easy to follow. Tried and tested recipes which every foodie will love to try.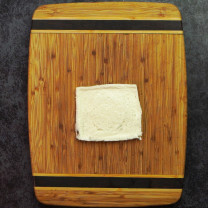 1 .
Take a bread slice and remove its edges. Flatten it with a rolling pin.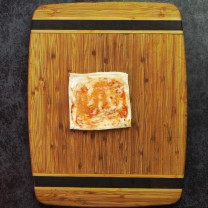 2 .
Spread mayo and chili garlic sauce on it evenly.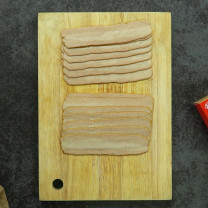 3 .
Thaw K&N's Pastrami Strips as per instructions on the pack.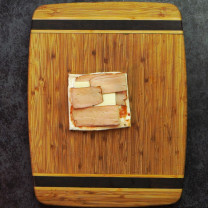 4 .
Place 3 K&N's pastrami strips horizontally and place them in a way that Pastrami strips easily wrap around the cheese slices.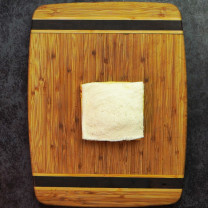 5 .
Add a cheese slice on top then repeat another layer. Lastly place another flattened bread slice on top and seal it with egg wash.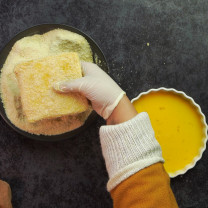 6 .
Dip the prepared box patties in eggs then coat them in bread crumbs.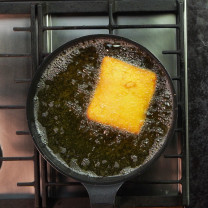 7 .
Then fry them on medium flame until nicely golden brown.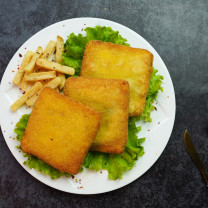 8 .
Your Pastrami Box Patties are ready.
DIRECTIONS
اگر آپ مزیدار اور آسان ریسپیز ڈھونڈ رہے ہیں تو آپ کو کہیں اور جانے کی ضرورت نہیں۔ سوپر شیف آپ کو مختلف اور آسان ریسپیز فراہم کرتا ہے جو کہ باآسانی بنائی جا سکتی ہیں۔ آزمودہ ریسپیز جو کہ ہر کھانے والے کی پسند بنے۔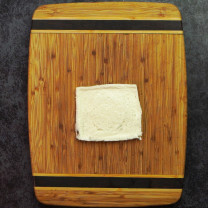 1 .
بریڈ سلائس لے کر ان کے کنارے کاٹ دیں اور بیلنے سے چپٹا کرلیں۔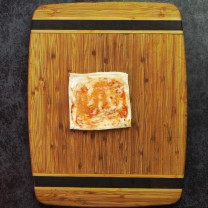 2 .
اب اس پرمایونیز اور چلی گارلک سوس ڈال کر اچھی طرح پھیلا لیں۔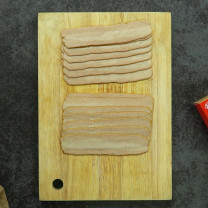 3 .
پیک پر دی گئی ہدایات کے مطابق پاسٹرامی سٹرپس نرم کر لیں۔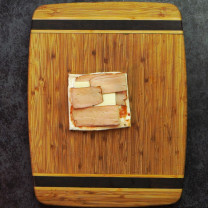 4 .
اب پاسٹرامی سٹرپس کودائیں سے بائیں رکھیں تاکہ پاسٹرامی سٹرپس آسانی سے چیز سلائسز میں لپیٹی جاسکیں۔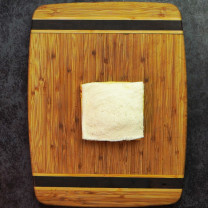 5 .
پھر اس پرچیز سلائس رکھیں اور دوسری تہہ کو دوبارہ دہرائیں۔ آخر میں ایک اوربیلی ہوئیبریڈ کا سلائس رکھیں اور اس پر برش سے انڈہ لگائیں۔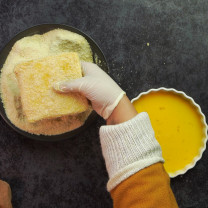 6 .
تیارباکس پیٹیز کو انڈوں میں ڈبو کر بریڈ کرمز میں کوٹ کرلیں۔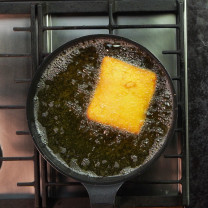 7 .
پھر انہیں درمیانی آنچ پر اچھی طرح گولڈن براؤن ہونے تک فرائی کر لیں۔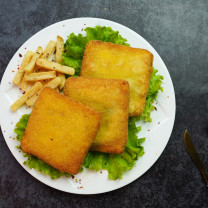 8 .
پاسٹرامی باکس پیٹیز تیار ہیں۔