Macaroni Cheese Balls Recip | Iftar Special Snack
Macaroni Cheese Balls Recip | Iftar Special Snack
Crispy on the outside, cheesy on the inside - try our irresistible Macaroni Cheese Balls recipe today. Share your feedback with us.
Ingredients
Ingredients for Boiled Macaroni:
Ingredients for Mac & Cheese:
Ingredients for Macaroni Cheese Balls:
DIRECTIONS
If you are looking for some delicious recipes which are easy to make then look no further. SooperChef gives you a variety of recipes with easy step by step procedures which makes it easy to follow. Tried and tested recipes which every foodie will love to try.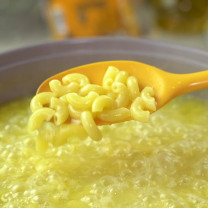 1 .
In a pot heat water and bring it to a boil. Add macaroni, salt, oil and boil the macaroni until 80% done. Strain and set aside.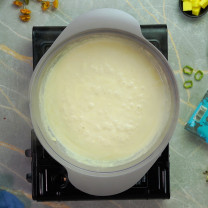 2 .
In a pot heat butter and add flour. Cook until fragrant. Add milk gradually and stir continuously.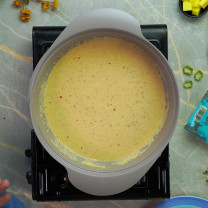 3 .
Now add red chili flakes, paprika, white pepper powder and mix it well.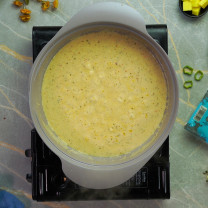 4 .
Add Nurpur Cheddar and Mozzarella Cheese, salt, oregano and cook until cheese melts.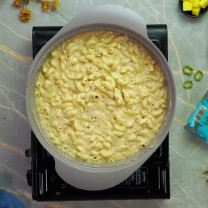 5 .
Add boiled macaroni and cook for a min. let it cool at room temperature. Transfer the mixture to a try and refrigerate for 15-20 mins. Your Mac & Cheese is ready.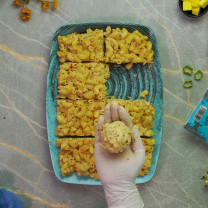 6 .
Now Mac & Cheese in the palm of your hands and make a ball shape.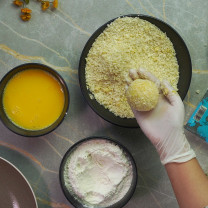 7 .
Coat in flour, dip it in beaten eggs and then coat in crumbs. Dip in beaten eggs and then coat in crumbs again.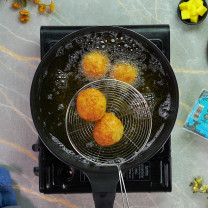 8 .
Now deep fry them until crispy and golden brown.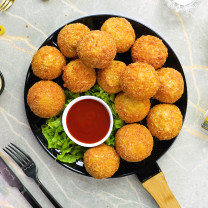 9 .
Your Macaroni Cheese Balls are ready. Serve and enjoy.
DIRECTIONS
اگر آپ مزیدار اور آسان ریسپیز ڈھونڈ رہے ہیں تو آپ کو کہیں اور جانے کی ضرورت نہیں۔ سوپر شیف آپ کو مختلف اور آسان ریسپیز فراہم کرتا ہے جو کہ باآسانی بنائی جا سکتی ہیں۔ آزمودہ ریسپیز جو کہ ہر کھانے والے کی پسند بنے۔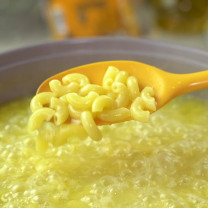 1 .
میکرونی ابالنے کے لئے ایک برتن میں پانی گرم کرکے ابال لیں۔اب اس میں میکرونی، نمک اور کھانے کا تیل ڈال کر میکرونی کو اسی فیصد پکنے تک ابال لیں اور چھان کر سائیڈ پر رکھ دیں۔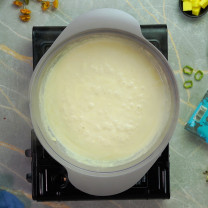 2 .
میک اینڈ چیز بنانے کے لئے ایک برتن میں مکھن گرم کرکے اس میں میدہ ڈال کر خوشبودار ہونے تک پکائیں۔اب اس میں آہستہ آہستہ دودھ ڈال کر مسلسل چمچ سے ہلاتے رہیں۔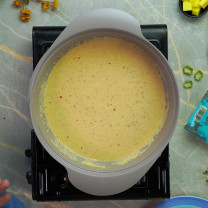 3 .
پھر اس میں کٹی لال مرچیں، پیپریکا اورسفید مرچ پاؤڈر ڈال کر اچھی طرح مکس کریں۔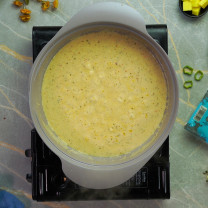 4 .
اب اس میں نورپور چیڈرچیز،موزریلا چیز، نمک اوراوریگانو ڈال کر چیز پگھلنے تک پکائیں۔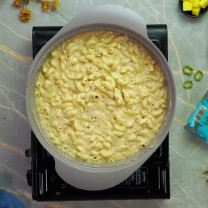 5 .
پھر اس میں ابلی ہوئی میکرونی ڈال کر ایک منٹ تک پکائیں اور اسے کمرے کے درجہ حرارت پر ٹھنڈا ہونے دیں۔اب اس مکسچر کوٹرے میں ڈال کر پندرہ سے بیس فریج میں رکھ دیں۔ میک اینڈ چیز تیار ہے۔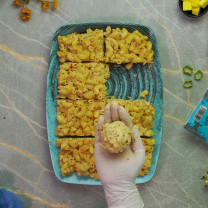 6 .
میکرونی چیز بالز بنانے کے لئے میک اینڈ چیز اپنے ہاتھوں کی ہتھیلی میں رکھیں اوربالز بنا لیں۔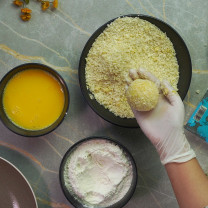 7 .
اب بالز کو میدہ میں کوٹ کرکے انڈ ہ لگائیں اور بریڈ کرمز میں کوٹ کریں۔ پھر ان کو پھینٹے ہوئے انڈوں میں ڈبوئیں اوربریڈ کرمز میں دوبارہ کوٹ کریں۔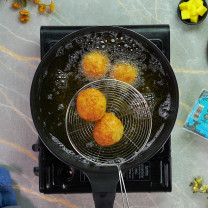 8 .
انہیں کرسپی اور گولڈن براؤن ہونے تک ڈیپ فرائی کرلیں۔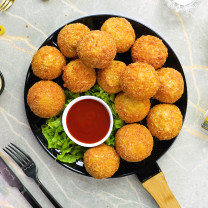 9 .
میکرونی چیز بالز تیار ہیں۔