Shahi Tukray Lasagna Recipe
Shahi Tukray Lasagna Recipe
Begin your Eid with something sweet and whats better than Shahi Tukray Lasagna to try this Eid. These delicious and mouth watering Shahi Tukray will melt in your mouth like anything. Try out theses Shahi Tukray Lasagna and share your feedback with us.
DIRECTIONS
If you are looking for some delicious recipes which are easy to make then look no further. SooperChef gives you a variety of recipes with easy step by step procedures which makes it easy to follow. Tried and tested recipes which every foodie will love to try.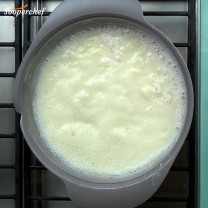 1 .
In a pan add milk, green cardamom, kewra essence, rose water, sugar and cook for 5-6 minutes or until starts to boil. now add corn flour mixture and cook until you reach your desired consistency.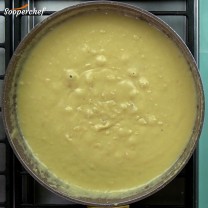 2 .
In a pan heat ghee and add khoya, condensed milk, cream and milk and cook for about 6-8 min or until thick in consistency. Take off flame and let it cool at room temperature.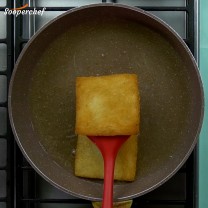 3 .
Toast the bread slices on pan until each side is golden. Set aside.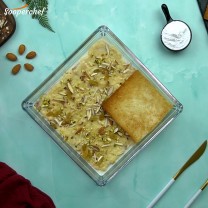 4 .
In a dish add khoya mixture, place the fried bread slices, pour milk syrup and spread khoya mixture again.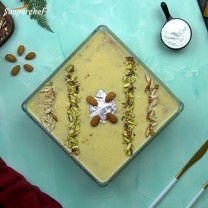 5 .
Add pistachios, almonds, raisins and do the same layering again. Top with pistachios and almonds. Chill for 1-2 hours and serve.
DIRECTIONS
اگر آپ مزیدار اور آسان ریسپیز ڈھونڈ رہے ہیں تو آپ کو کہیں اور جانے کی ضرورت نہیں۔ سوپر شیف آپ کو مختلف اور آسان ریسپیز فراہم کرتا ہے جو کہ باآسانی بنائی جا سکتی ہیں۔ آزمودہ ریسپیز جو کہ ہر کھانے والے کی پسند بنے۔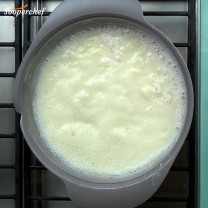 1 .
ملک سیرپ بنانے کے لئے ایک پین میں دودھ، سبز الائچی، کیوڑہ ایسنس، گلاب کا عرق اور چینی ڈال کر پانچ سے چھ منٹ پکائیں۔اب اس میں کارن فلار مکسچر ڈال کر اچھی طرح پکائیں۔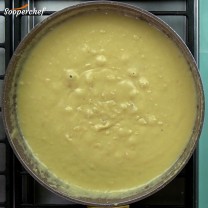 2 .
کھویا مکسچر بنانے کے لئے ایک پین میں گھی گر م کرکے اس میں کھویا، کنڈینسڈ ملک، کریم اور دودھ ڈال کر چھ سے آٹھ منٹ پکائیں اور چولہا بند کرکے ٹھنڈا ہونے دیں۔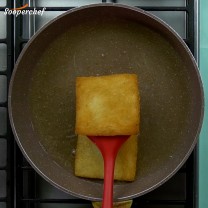 3 .
اسمبلنگ کے لئے بریڈ سلائسز کو ہر سائیڈ سے گولڈن ہونے تک ٹوسٹ کر لیں۔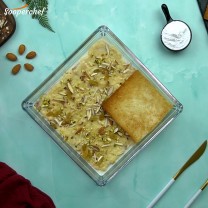 4 .
اب ایک ڈِ ش میں کھو یا مکسچر پھیلا کر اس پر بریڈ سلائسز رکھیں اور ملک سیرپ ڈال کر دوبارہ کھو یا مکسچر پھیلا دیں۔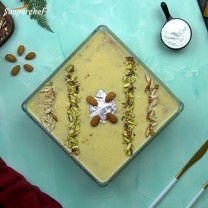 5 .
پھر اس پر پستہ، بادام، کشمش سے گارنش کرکے پھر کھو یا مکسچر پھیلا کر اس پر بریڈ سلائسز رکھیں اور ملک سیرپ ڈال کر دوبارہ کھو یا مکسچر پھیلا دیں۔اب ایک سے دو گھنٹے کے لئے ٹھنڈا کر لیں اور سرو کریں۔