Healthy Chana Palak Recipe
Healthy Chana Palak Recipe
Start Your Day Right with This Healthy Chana Palak Recipe: Perfect for a Nourishing Sehri
Ingredients
Ingredients for Boiled Chickpeas:
Ingredients for Boiled Spinach:
DIRECTIONS
If you are looking for some delicious recipes which are easy to make then look no further. SooperChef gives you a variety of recipes with easy step by step procedures which makes it easy to follow. Tried and tested recipes which every foodie will love to try.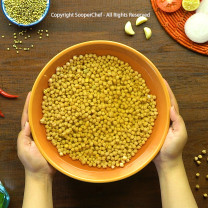 1 .
In a bowl add white chickpeas, water, baking soda and mix it well. let it soak overnight.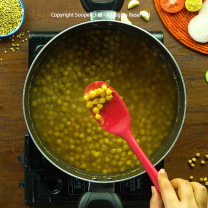 2 .
In a pot add soaked chickpeas, hot water, salt, turmeric powder and cover and boil until chickpeas are 90% done. set aside.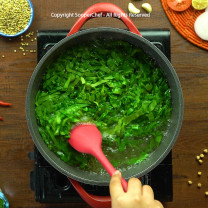 3 .
In a pot heat water and add baking soda, spinach and let it boil for 7-8 mins.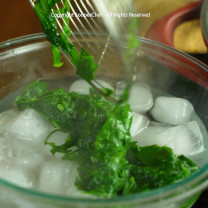 4 .
Transfer the boiled spinach to chilled water for a few seconds. Strain and set aside.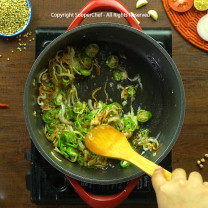 5 .
In a pot heat oil and add onion. Cook until onion starts to turn brown. Add cumin seeds, green chilies, ginger garlic paste and cook for a mins.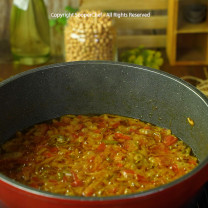 6 .
Add tomatoes, coriander powder, red chili powder, salt and mix it well. Add 1/2 cup of hot water, yogurt and cover and cook for 2-3 mins or until oil separates.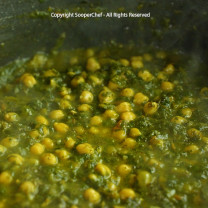 7 .
Add spinach and cook for 2-3 mins. Add boiled chickpeas, give it a good mix. Add 1 cup of hot water and cover and cook for 5-7 mins. Add dried fenugreek and give it a good mix.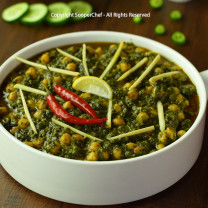 8 .
Dish it out, garnish it with ginger, red whole chilies, lemon slices and serve. Your Chana Palak is ready.
DIRECTIONS
اگر آپ مزیدار اور آسان ریسپیز ڈھونڈ رہے ہیں تو آپ کو کہیں اور جانے کی ضرورت نہیں۔ سوپر شیف آپ کو مختلف اور آسان ریسپیز فراہم کرتا ہے جو کہ باآسانی بنائی جا سکتی ہیں۔ آزمودہ ریسپیز جو کہ ہر کھانے والے کی پسند بنے۔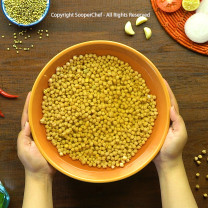 1 .
چنے ابالنے کے لئے ایک باؤل میں سفید چنے، پانی اور بیکنگ سوڈا ڈال کر اچھی طرح مکس کریں اور اسے رات بھر بھگودیں۔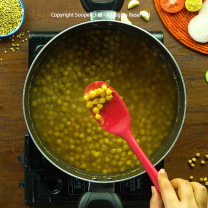 2 .
اب ایک برتن میں بھگوئےہوئے چنے، گرم پانی، نمک اورہلدی پاؤڈر ڈال کرڈھکن سے ڈھک کرچنے نوے فیصد پکنے تک ابال لیں۔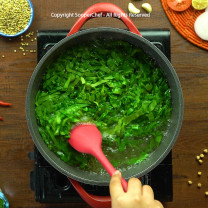 3 .
پالک ابالنے کے لئے ایک برتن میں پانی گرم کرکے اس میں بیکنگ سوڈا اور پالک ڈال کرسات سے آٹھ منٹ تک ابال لیں۔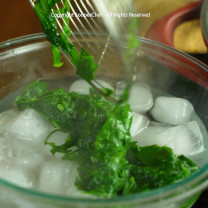 4 .
اب ابلی ہوئی پالک کو چند سیکنڈ کے لیے ٹھنڈے پانی میں ڈالیں اور چھان کر سائیڈ پررکھ دیں۔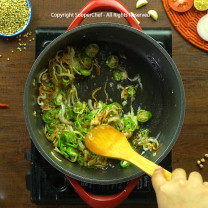 5 .
چنا پالک بنانے کے لئے ایک برتن میں کھانے کا تیل گرم کرکے اس میں پیاز ڈال کرپیاز براؤن ہونےتک پکائیں۔اب اس میں زیرہ، ہری مرچ اور ادرک لہسن کا پیسٹ ڈال کر ایک منٹ تک پکائیں۔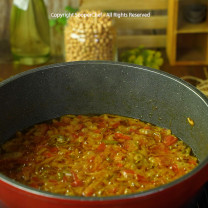 6 .
اب اس میں ٹماٹر، دھنیا پاؤڈر، لال مرچ پاؤڈر اور نمک ڈال کر اچھی طرح مکس کریں۔پھر اس میں آدھا کپ گرم پانی اوردہی ڈال کرڈھکن سے ڈھک کردو سے تین منٹ تک پکائیں۔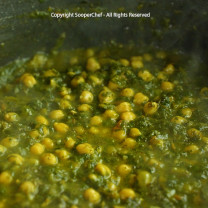 7 .
پھر اس میں پالک ڈال کر دو سے تین منٹ تک پکائیں۔اب اس میں ابلے ہوئے چنے ڈال کر اچھی طرح مکس کریں۔ پھر اس میں ایک کپ گرم پانی ڈال کر ڈھکن سے ڈھک کرپانچ سے سات منٹ تک پکائیں۔اب اس میں سوکھی میتھی ڈال کر اچھی طرح مکس کریں۔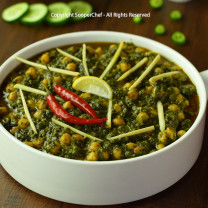 8 .
اب چنا پالک کو ایک ڈش میں نکال کر اس پر ادرک، لال مرچ اور لیموں سلائسز سے گارنش کرکے سرو کریں۔ چنا پالک تیار ہے۔