Grilled Chicken Cheese Sandwich Recipe
Grilled Chicken Cheese Sandwich Recipe
Grilled Chicken Cheese Sandwich is a mouth-watering sandwich combination. The cheesy bite with chicken filling and tangy sauces is worth all your effort. Try out this Grilled Chicken Cheese Sandwich made with Nurpur Cheese and Butter and let us know how it turned out.

Ingredients
Ingredients for Red Sauce:
Ingredients for Chicken Mixture:
Ingredients for Assembling:
DIRECTIONS
If you are looking for some delicious recipes which are easy to make then look no further. SooperChef gives you a variety of recipes with easy step by step procedures which makes it easy to follow. Tried and tested recipes which every foodie will love to try.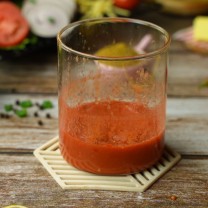 1 .
In a glass jar add red chilies, vinaigrette fresh red chilies, tomatoes, garlic cloves, black salt, lemon juice, cumin powder and blend well into a paste. Your red sauce is ready set aside.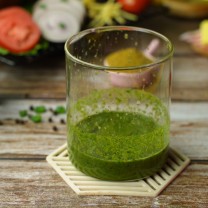 2 .
In a glass jar add green coriander, spinach, green chilies, garlic, curry leaves, cumin seeds, chaat masala, salt, water and blend well into a paste. Your green chutney is ready. Set aside.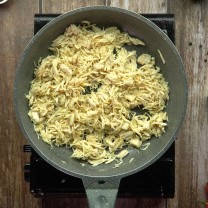 3 .
In a pan heat oil and add ginger garlic paste, chicken and cook for a minute.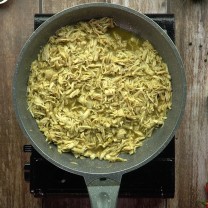 4 .
Now add chicken stock, salt, black pepper, coriander powder, cumin powder, lemon juice and give it a good mix.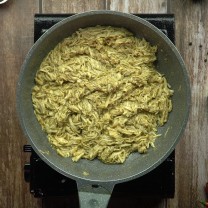 5 .
Now add corn flour slurry and cook until thick in consistency. Your chicken mixture is ready. Set aside.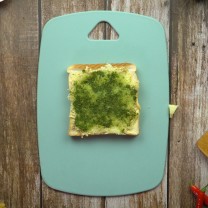 6 .
Take a bread slice and spread Nurpur Butter on it. Add a layer of chicken sandwich, potatoes, green sauce and cover it with another bread slice.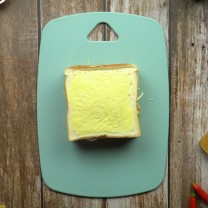 7 .
Spread Nuprur Butter on top again, add a layer of Nurpur Cheddar Cheese, capsicum, cabbage, onion, red sauce and cover it again with sandwich bread slice. Spread butter on top on bread slice.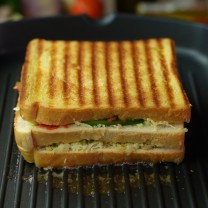 8 .
Grill the sandwich from each side until golden brown in color.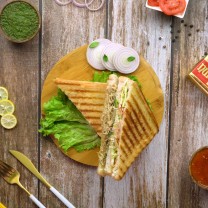 9 .
Your Grilled Chicken Cheese Sandwich is ready.
DIRECTIONS
اگر آپ مزیدار اور آسان ریسپیز ڈھونڈ رہے ہیں تو آپ کو کہیں اور جانے کی ضرورت نہیں۔ سوپر شیف آپ کو مختلف اور آسان ریسپیز فراہم کرتا ہے جو کہ باآسانی بنائی جا سکتی ہیں۔ آزمودہ ریسپیز جو کہ ہر کھانے والے کی پسند بنے۔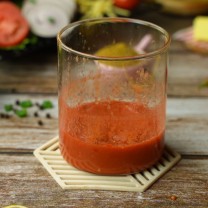 1 .
ریڈ سوس بنانے کے لئے ایک جار میں سرخ مرچ، سرکے والی لال مرچیں، ٹماٹر، لہسن کی جویں، کالا نمک، لیموں کا رس اورزیرہ پاؤڈر ڈال کر اچھی طرح بلینڈ کریں۔ ریڈ سوس تیار ہے۔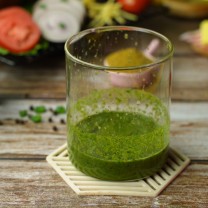 2 .
سبز چٹنی بنانے کے لئے ایک جار میں ہرا دھنیا، پالک، ہری مرچ، لہسن، کڑھی پتے، زیرہ، چاٹ مصالحہ، نمک اورپانی ڈال کر اچھی طرح بلینڈ کر لیں۔ سبز چٹنی تیار ہے۔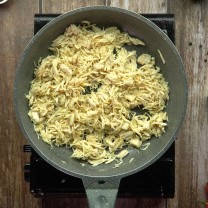 3 .
چکن مکسچر بنانے کے لئے ایک پین میں کھانے کا تیل گرم کرکے اس میں ادرک لہسن کا پیسٹ اورچکن ڈال کر ایک منٹ تک پکائیں۔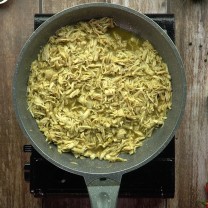 4 .
اب اس میں چکن یخنی، نمک، کالی مرچ، دھنیا پاؤڈر، زیرہ پاؤڈر اور لیموں کا رس ڈال کر اچھی طرح مکس کریں۔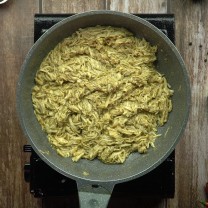 5 .
پھر اس میں کارن فلار سلری ڈال کر گاڑھا ہونے تک پکائیں۔ چکن مکسچر تیار ہے۔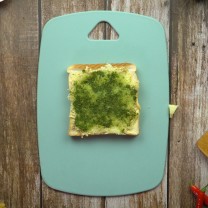 6 .
اسمبلنگ کے لئے ایک بریڈ سلائس لے کر اس پر نورپور بٹر پھیلائیں۔ اب اس پر چکن سینڈوچ، آلو اور سبز چٹنی کی ایک تہہ لگا کر ایک اور بریڈ سلائس رکھ کر ڈھانپ دیں۔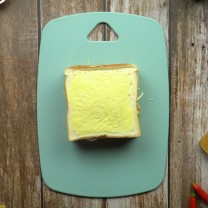 7 .
اب اس سلائس پر بھی نوپرر مکھن پھیلائیں۔ پھر اس پر نورپور چیڈرچیز، شملہ مرچ، بند گوبھی، پیاز اورریڈ سوس کی ایک تہہ لگا کر اسے دوبارہ سینڈوچ بریڈ سلائس سے ڈھانپ دیں اور اس پربھی مکھن پھیلائیں۔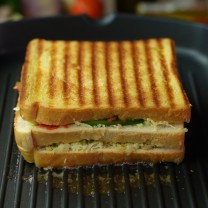 8 .
سینڈوچ کو ہر طرف سے گولڈن براؤن ہونے تک گرل کریں۔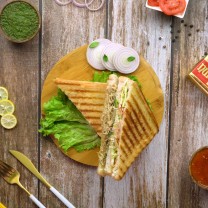 9 .
مزیدارگرلڈ چکن چیز سینڈوچ تیار ہے۔