Double Down Chicken Sandwich Recipe
Double Down Chicken Sandwich Recipe
Double Down Chicken Sandwich is the perfect recipe for all chicken and sandwich lovers. Crispy chicken and potato bites with lip-smacking sauce make it simply delicious and irresistible. Try out this Double Down Sandwich and share your feedback with us.
DIRECTIONS
If you are looking for some delicious recipes which are easy to make then look no further. SooperChef gives you a variety of recipes with easy step by step procedures which makes it easy to follow. Tried and tested recipes which every foodie will love to try.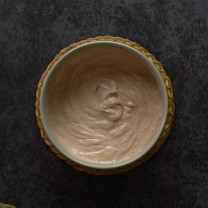 1 .
In a bowl add mayonnaise, sour cream, paprika powder, lemon juice and salt. Whisk all these ingredients well and chipotle mayo is ready. Set aside.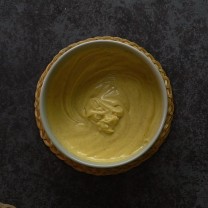 2 .
a bowl add honey, mayonnaise, mustard, lemon juice, paprika and salt. Whisk all these ingredients well and your honey mustard sauce is ready. Set aside.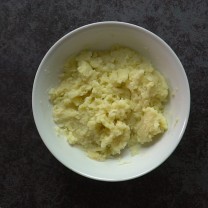 3 .
In a pot of simmering water add potatoes and boil them until they are fully done. Peel off the skin of potatoes and mash them properly.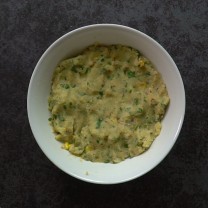 4 .
In mashed potatoes add green chili paste, coriander, sweet corns, salt, garlic powder, red chili flakes, black pepper and mix all them well. Potato filling is ready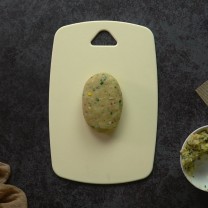 5 .
Take some amount of potato filling in your hand, top it with cheese, add some more potato filling on top and make a patty shape.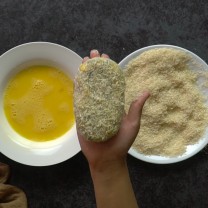 6 .
Dip potato patty firstly in egg and then coat them in bread crumbs.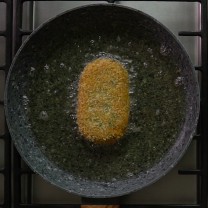 7 .
Heat oil in a pan and shallow fry potato patty on medium flame from both side until light golden brown in color. Set aside.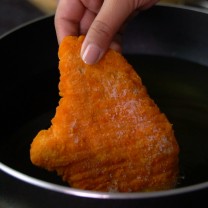 8 .
Prepare K&N's Thunder Fillets as per the instructions on the pack. And set aside.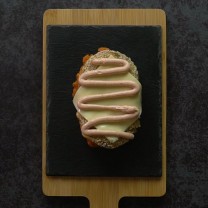 9 .
Take one prepared K&N's Thunder Fillet and drizzle honey mustard sauce on it. Place fried potato patty, drizzle chipotle mayo on top and place a cheese slice. Cover your sandwich with another prepared K&N's Thunder Fillet and it's ready.
10 .
Serve your delicious crispy Double Down Sandwich and enjoy every bite.
DIRECTIONS
اگر آپ مزیدار اور آسان ریسپیز ڈھونڈ رہے ہیں تو آپ کو کہیں اور جانے کی ضرورت نہیں۔ سوپر شیف آپ کو مختلف اور آسان ریسپیز فراہم کرتا ہے جو کہ باآسانی بنائی جا سکتی ہیں۔ آزمودہ ریسپیز جو کہ ہر کھانے والے کی پسند بنے۔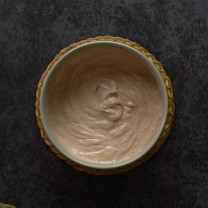 1 .
سینڈ وچ سوس بنانے کے لئے ایک باؤل میں مایو نیز، سار کریم، پیپریکا پاؤڈر، لیموں کا رس اور نمک ڈال کر تمام اجزا اچھی طرح مکس کر لیں، سینڈ وچ سوس تیار ہے۔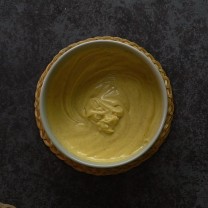 2 .
ہنی مسٹرڈ سوس بنانے کے لئے ایک باؤل میں شہد، مایونیز، مسٹرڈ، لیموں کا رس، پیپریکا اور نمک ڈال کر تمام اجزا اچھی طرح مکس کر لیں، ہنی مسٹرڈ سوس تیار ہے۔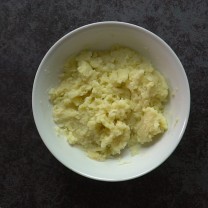 3 .
فلنگ بنانے کے لئے ایک برتن میں پانی گرم کرکے آلوؤں کو اچھی طرح ابال لیں۔ اب آلوؤں کو چھیل کر اچھی طرح میش کر لیں۔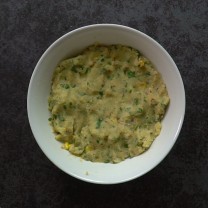 4 .
اب میش کئے ہوئے آلوؤں میں سبز مرچ پیسٹ، دھنیا، سویٹ کارن، نمک، لہسن پاؤڈر، کٹی لال مرچیں اور کالی مرچیں ڈال کر اچھی طرح مکس کریں، فلنگ تیار ہے۔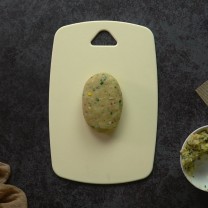 5 .
پھر اپنے ہاتھوں پر تھوڑی سی فلنگ رکھیں اور اس پر چیز رکھ کر دوبارہ فلنگ رکھ کر پیٹی کی شکل بنا لیں۔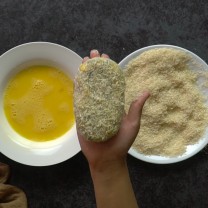 6 .
اب آلوؤں کی پیٹی کو انڈہ لگائیں اور بریڈ کرمز میں کوٹ کر لیں۔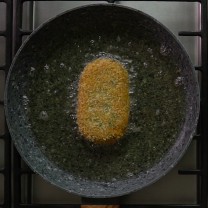 7 .
پھر ایک پین میں کھانے کا تیل گرم کرکے آلوؤں کی پیٹی کو ہلکی آنچ پر دونوں سائیڈوں سے گولڈن براؤن ہونے تک فرائی کر لیں۔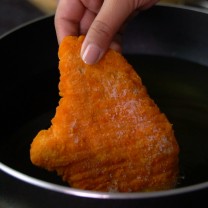 8 .
پیکٹ پر دی گئی ہدایات کے مطابق تھنڈر فِلے تیار کر لیں۔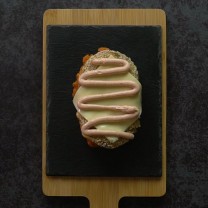 9 .
اب تیار کیا ہوا ایک تھنڈر فِلے لیں اور اس پر ہنی مسٹرڈ سوس ڈال کر فرائی کی ہوئی پیٹی رکھ دیں۔ پھر اس پر سینڈ وچ سوس ڈالیں اور چیز سلائس رکھ کر دوسرے تھنڈر فِلے سے ڈھک دیں۔
10 .
مزیدار ڈبل ڈاؤن سینڈوچ تیار ہے۔