Chicken Steak Rice Bowl Recipe
Chicken Steak Rice Bowl Recipe
Research Content
All the flavors you are craving for in this lockdown. Chicken steak rice bowl is supremely tasteful and will make your eat more. Try this chicken steak rice bowl recipe and you gonna love it in the very first bite. Do share your feedback with us
DIRECTIONS
If you are looking for some delicious recipes which are easy to make then look no further. SooperChef gives you a variety of recipes with easy step by step procedures which makes it easy to follow. Tried and tested recipes which every foodie will love to try.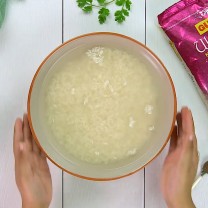 1 .
In a bowl add water and soak rice in it for 30 minutes. Set aside.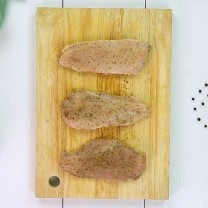 2 .
Take chicken fillets and sprinkle one pinch of salt, garlic powder, black pepper on each side. Repeat the same with all chicken fillets and marinate them for 30 minutes.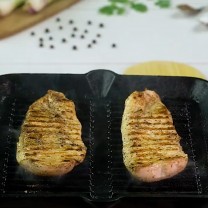 3 .
Grease a grill pan and cook chicken fillets from both sides for 4 to 5 minutes or until cooked. Set aside.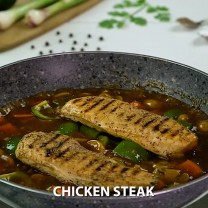 4 .
In a pan heat oil, add garlic and sauté it for a minute. Then add mushroom carrots and stir it for a minute. Then add salt, black pepper, garlic cloves, soy sauce, hoisin sauce, vinegar, brown sugar, corn flour, sesame oil and cook until thicken. Add grilled chicken on top and set aside.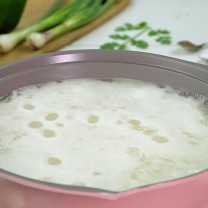 5 .
In a pot boil water, add salt, vinegar and let it simmer. Add soaked rice in it and boil until 80% done.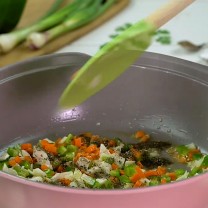 6 .
In another pan heat oil, sauté chopped garlic in it then add carrots, capsicum and cabbage. Add white pepper, salt, boiled rice, cover and cook for 6 to 8 minutes. . Lastly add green onion on top.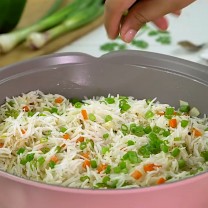 7 .
Fill a bowl with fried rice, top it with prepared chicken steak and pour sauce on side.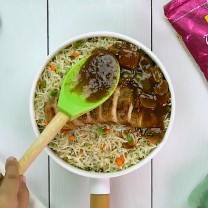 8 .
Your delicious Chicken Steak Rice Bowl is ready to serve.
DIRECTIONS
اگر آپ مزیدار اور آسان ریسپیز ڈھونڈ رہے ہیں تو آپ کو کہیں اور جانے کی ضرورت نہیں۔ سوپر شیف آپ کو مختلف اور آسان ریسپیز فراہم کرتا ہے جو کہ باآسانی بنائی جا سکتی ہیں۔ آزمودہ ریسپیز جو کہ ہر کھانے والے کی پسند بنے۔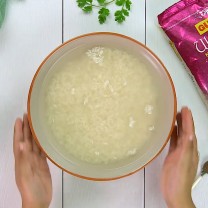 1 .
ایک باؤل میں چاولوں کو تیس منٹ تک بھگو رکھیں اور پھر سائیڈ پر رکھ دیں۔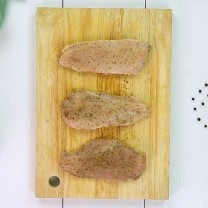 2 .
اب چکن فلٹس پر ایک چٹکی نمک، لہسن پاؤڈر اور کالی مرچ دونوں سائیڈو ں پر چھڑک کر تیس منٹ کے لئے میرینیٹ کے لئے رکھ دیں۔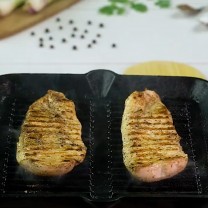 3 .
پھر ایک گرِل پین کو گریس کریں اور چکن فلٹس کو دونوں سائیڈوں سے چارسے پانچ منٹ پکا کر سائیڈ پر رکھ دیں۔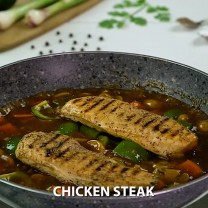 4 .
اب ایک پین میں کھانے کا تیل گرم کرکے اس میں لہسن ڈال کر ایک منٹ تک بھون لیں۔پھر اس میں مشروم اور گاجریں ڈال کر ایک منٹ مکس کریں۔اب اس میں نمک، کالی مر چیں، لہسن کی جویں، سویا سوس، ووسٹر شائر سوس، سرکہ،براؤن شوگر، کارن فلار اور تِلوں کا تیل ڈال کر گاڑھا ہونے تک پکائیں۔پھر اس پر گرلڈ چکن رکھیں اور سائیڈ پر رکھ دیں۔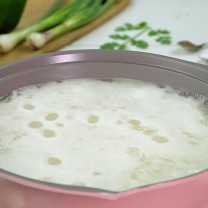 5 .
اب ایک برتن میں پانی، نمک اور سرکہ ڈال کر ابلنے دیں اور اس میں بھگوئے ہوئے چاول ڈال کر اسی فیصد پکنے تک پکائیں۔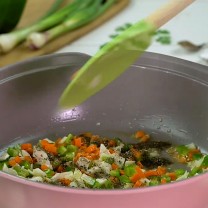 6 .
پھر ایک دوسرے پین میں کھانے کا تیل گرم کرکے اس میں لہسن، گاجریں، شملا مرچ اور بند گوبھی ڈال کر بھون لیں۔اب اس میں سفید مرچ، نمک اور ابلے ہوئے چاول ڈال کر ڈھکن سے ڈھک چھ سے آٹھ منٹ پکائیں اورپھر آخر میں اس پر سبز پیاز ڈالیں۔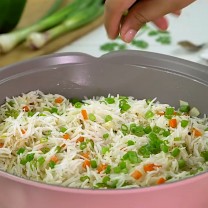 7 .
اب ایک باؤل میں فرائی کئے ہوئے چاول ڈالیں اور اس پر تیار کئے ہوئے چکن سٹیک رکھ کرسائیڈ پرسو س ڈال دیں۔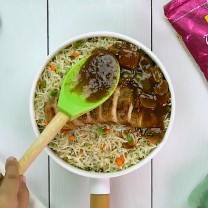 8 .
مزیدار چکن سٹیک رائس باؤل تیار ہے۔