Chicken Hareesa Recipe
Presenting you Chicken Hareesa, a perfect recipe for winter. Here is our take on this delicious and mouth-watering meal. Serve this scrumptious Lahori Chicken Hareesa with Naan and enjoy. Let us know how it turned out.

Ingredients
Ingredients for Chicken Stock:
Ingredients for Masala:
Ingredients for Chicken Kabab:
Ingredients for Hareesa:
Ingredients:
DIRECTIONS
If you are looking for some delicious recipes which are easy to make then look no further. SooperChef gives you a variety of recipes with easy step by step procedures which makes it easy to follow. Tried and tested recipes which every foodie will love to try.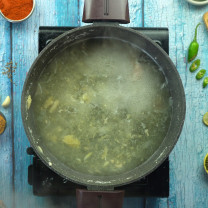 1 .
In a pot add chicken, water, onion, garlic cloves, salt and heat it. Cover and boil until chicken is fully done. Remove the chicken and shred it. Reserve the stock for later use.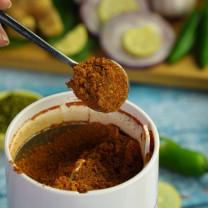 2 .
In a grinder add star anise, cumin seeds, cloves, mace, cinnamon sticks, fennel seeds, red chili flakes, black cardamom, red chili powder, coriander powder, turmeric powder, salt and grind well into fine powder. Set aside.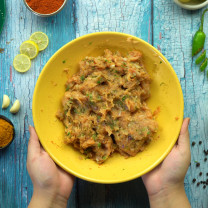 3 .
In a bowl add chicken mince, onion, green chilies, green coriander, ginger garlic paste, red chili powder, salt, cumin powder, and coriander powder and mix it well.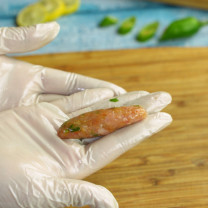 4 .
Make small finger-like kabab shapes from the prepared mince mixture.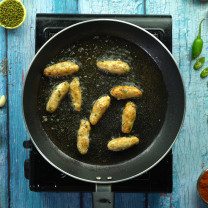 5 .
Now fry them until golden brown from each side and fully done. Your Chicken Kabab are ready. Set aside.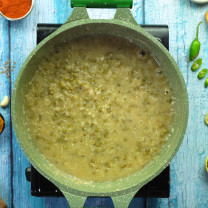 6 .
In a heated pot add mung beans, soaked rice, soaked wheat oats and cover and cook until they are fully done.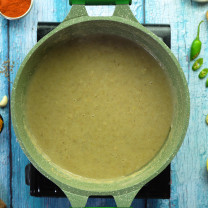 7 .
Now blend it well and add chicken stock. Give it a good mix.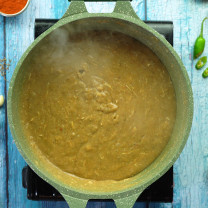 8 .
Add boiled and shredded chicken, prepared masala and cook for 2-3 mins over low flame. Add chicken kabab and cook for a minute. Set aside.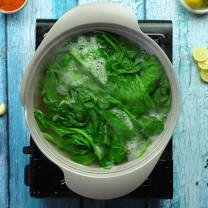 9 .
In a pot heat water, add baking soda and bring it to a boil. Add spinach and boil for 7-8 mins.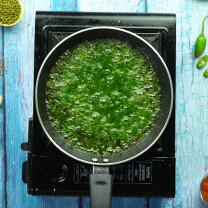 10 .
Now transfer the spinach into chilled water and soak for 1-2 mins. Add this soaked spinach into blender and blend it well. In a pan heat ghee and add blended spinach. Cook for 1-2 mins.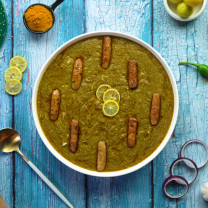 11 .
Add this prepared Palak Tarka into Hareesa and Your Chicken Hareesa is ready.
DIRECTIONS
اگر آپ مزیدار اور آسان ریسپیز ڈھونڈ رہے ہیں تو آپ کو کہیں اور جانے کی ضرورت نہیں۔ سوپر شیف آپ کو مختلف اور آسان ریسپیز فراہم کرتا ہے جو کہ باآسانی بنائی جا سکتی ہیں۔ آزمودہ ریسپیز جو کہ ہر کھانے والے کی پسند بنے۔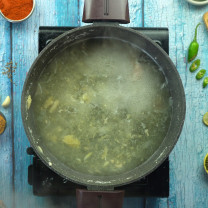 1 .
چکن یخنی بنانے کے لئے ایک برتن میں چکن، پانی، پیاز، لہسن کی جویں اور نمک ڈال کر گرم کریں اور ڈھک کرچکن اچھی طرح پک جانے تک ابال لیں۔ چکن کو نکال کر کاٹ لیں اور یخنی بعد میں استعمال کے لئے محفوظ کرلیں۔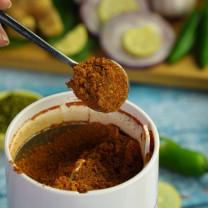 2 .
مصالحہ بنانے کے لئے ایک گرائنڈر میں بادیان، زیرہ، لونگ، جاوتری، دار چینی اسٹکس، سونف، کٹی لال مرچیں، کالی الائچی، لال مرچ پاؤڈر، دھنیا پاؤڈر، ہلدی پاؤڈر اور نمک ڈال کر اچھی طرح پیس لیں۔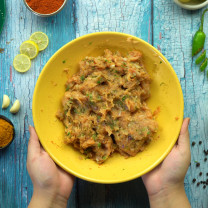 3 .
چکن کباب بنانے کے لئے ایک باؤل میں چکن قیمہ، پیاز، ہری مرچ، ہرا دھنیا، ادرک لہسن کا پیسٹ، لال مرچ پاؤڈر، نمک، زیرہ پاؤڈر اوردھنیا پاؤڈر ڈال کر اچھی طرح مکس کریں۔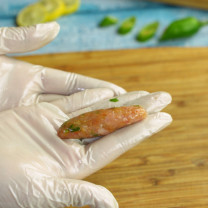 4 .
تیار قیمہ مکسچر سے کباب کی شکلیں بنا لیں۔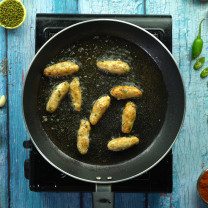 5 .
اب ان کو ہر طرف سے گولڈن براؤن ہونے تک فرائی کر لیں۔ چکن کباب تیار ہیں۔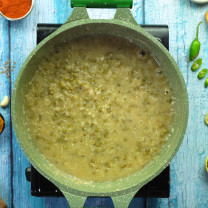 6 .
ہریسہ بنانے کے لئے ایک گرم برتن میں مونگ کی دالیں، بھگوئیہوئے چاول اور بھگوئی ہوئی جئی ڈال کر ڈھک کر اچھی طرح پکنے تک پکائیں۔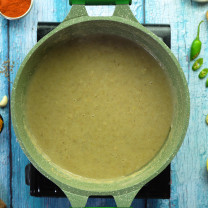 7 .
اب اسے اچھی طرح بلینڈ کرکے اس میں چکن یخنی ڈال کر اچھی طرح مکس کریں۔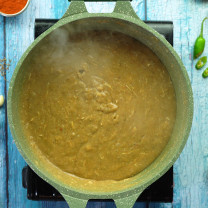 8 .
پھر اس میں ابلا ہوا اور کٹا ہوا چکن اورتیار مصالحہڈال کر ہلکی آنچ پردو سے تینمنٹ تک پکائیں۔اب چکن کباب ڈال کر ایک منٹ تک پکائیں۔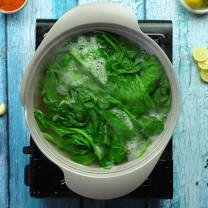 9 .
پالک ترکہ بنانے کے لئے ایک برتن میں پانی گرم کرکے اس میں بیکنگ سوڈا ڈالیں اور ابال لیں۔اب اس میں پالک ڈال کرسات سے آٹھ منٹ تک ابالیں۔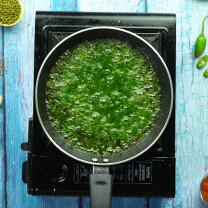 10 .
پھر اس پالک کو ٹھنڈے پانی میں ڈالیں اورایک سے دو منٹ تک بھگو دیں۔ اب بلینڈر میں بھگوئی ہوئی پالک ڈال کر اچھی طرح بلینڈ کر لیں۔پھر ایک پین میں گھی گرم کرکے اس میں بلینڈ کی ہوئی پالک ڈال کر ایک سے دو منٹ پکائیں۔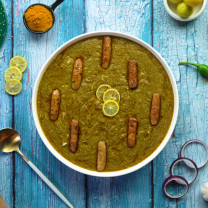 11 .
اس تیار پالک ترکہ کو ہریسہ پر ڈالیں۔مزیدارچکن ہریسہ تیار ہے۔