Chicken Enchiladas Recipe
Chicken Enchiladas Recipe
Chicken enchiladas Recipe
is here to tempt you with every bite. Juicy, mild spiced shredded chicken filled in crispy tortilla, served with tangy enchiladas sauce and cheese is a dish packed with all flavors. Give this chicken enchiladas recipe a try and share your feedback with us.
DIRECTIONS
If you are looking for some delicious recipes which are easy to make then look no further. SooperChef gives you a variety of recipes with easy step by step procedures which makes it easy to follow. Tried and tested recipes which every foodie will love to try.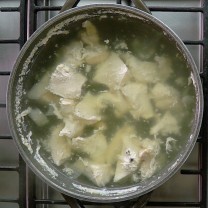 1 .
In a pot simmer water; add salt, black pepper, ginger garlic paste, onion and chicken. Boil until chicken is fully done. Remove chicken and set aside stock for later use.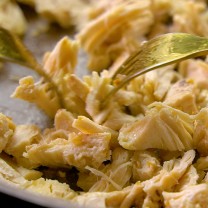 2 .
In a pan heat oil, sauté garlic for a minute and then fry onion in it for 2 to 3 minutes. Add boiled chicken and shred it roughly.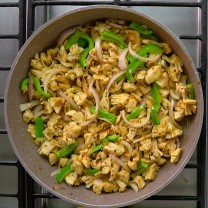 3 .
Now add salt, red chili flakes, tabasco sauce, hot sauce, lemon juice and mix well. Lastly add onion, capsicum and cook for two minutes. Set aside.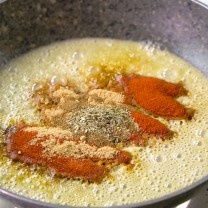 4 .
In another pan heat oil, add flour and cook for a minute. Then add chili powder, garlic powder, cumin, oregano and mix it well.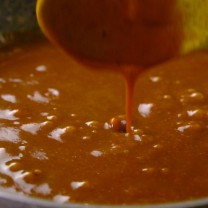 5 .
Gradually add chicken stock and stir continuously. Cook until your sauce is thick. Lastly add tomato paste, vinegar and cook for 15 to 20 minutes or until you reach your desired consistency. Then add salt and mix. Your enchilada sauce is ready.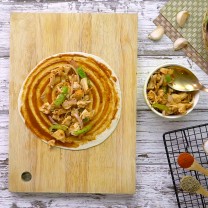 6 .
Take tortilla, spread enchilada sauce and put prepared chicken on top. Roll it and set aside.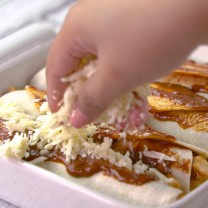 7 .
Take baking dish, spread enchilada sauce on bottom of dish evenly and place prepared tortilla rolls on top covering the dish completely. Spread some more enchilada sauce on top and sprinkle cheese on it.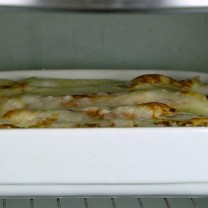 8 .
Cover your dish with aluminum foil and bake in a preheated oven at 180 degrees for 15 to 20 minutes or until cheese melts.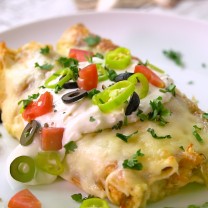 9 .
Your tasty enchiladas are ready. Garnish it with olives, green chilies, tomatoes, coriander, black pepper and serve with sour cream.
DIRECTIONS
اگر آپ مزیدار اور آسان ریسپیز ڈھونڈ رہے ہیں تو آپ کو کہیں اور جانے کی ضرورت نہیں۔ سوپر شیف آپ کو مختلف اور آسان ریسپیز فراہم کرتا ہے جو کہ باآسانی بنائی جا سکتی ہیں۔ آزمودہ ریسپیز جو کہ ہر کھانے والے کی پسند بنے۔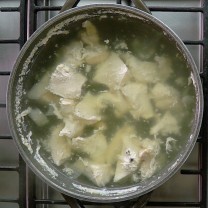 1 .
ایک برتن میں، پانی، نمک، کالی مرچ، ادرک لہسن پیسٹ، پیاز اور چکن ڈال کر چکن اچھی طرح پکنے تک ابال لیں (بعد میں استعمال کے لئے یخنی نکال کر سائیڈ پر رکھ دیں)۔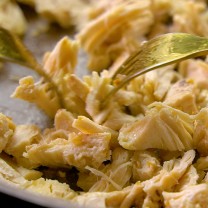 2 .
اب ایک پین میں کھانے کا تیل گرم کرکے اس میں لہسن ایک منٹ بھون کر پیاز ڈالیں اور دو سے تین منٹ فرائی کریں۔پھر اس میں ابلا ہوا چکن ڈال کر چکن کے ریزے کر لیں۔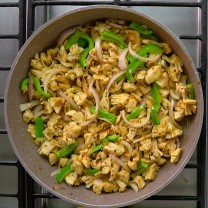 3 .
پھر اس میں نمک، کٹی لال مرچیں، تبیسکو سو س، ہاٹ سوس اور لیموں کا رس ڈال کر اچھی طرح مکس کرلیں۔ اب آخر میں پیاز اور شملا مرچ ڈال کر دو منٹ پکائیں۔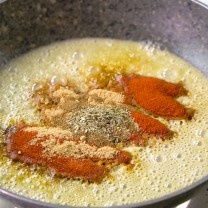 4 .
اب ایک دوسرے پین میں کھانے کا تیل گرم کرکے اس میدہ ڈال کر ایک منٹ پکائیں۔پھر اس میں چِلی پاؤڈر، لہسن پاؤڈر، ذیرہ اور اوریگانو ڈال کر اچھی طرح مکس کرلیں۔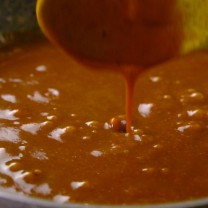 5 .
پھر اس میں تھوڑا تھوڑا کرکے چکن ڈالیں اور مکس کرتے جائیں جب تک سوس گاڑھی ہوجائے۔ اب اس میں ٹماٹر پیسٹ اور سرکہ ڈال کر پندرہ سے بیس منٹ پکائیں۔پھر نمک ڈال کر اچھی طرح مکس کرلیں، انچلاڈاسوس تیار ہے۔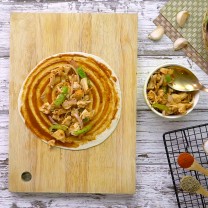 6 .
اب ایک ٹورٹیلا پر انچلا ڈا سوس پھیلاکر تیار کیا ہوا چکن رکھیں اور رول کرکے سائیڈ پر رکھ دیں۔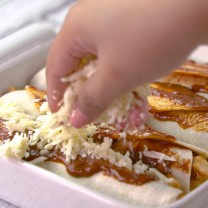 7 .
پھر ایک بیکنگ ڈِش لے کر اس پر انچلا ڈا سوس پھیلاکر اس پر تیار کئے ہوئے ٹورٹیلا رول ز رکھیں۔اب اس پر تھوڑی اور انچلا ڈا سوس پھیلائیں اور چیز چھڑک دیں۔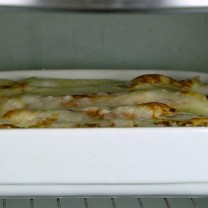 8 .
اب اس ڈِش کو ایلومینیم فوائل میں ڈھک کر پہلے سے گرم اوون میں ایک سو اسی کے ٹمپریچر پر پندرہ سے بیس منٹ بیک کر لیں یا جب تک چیز پگھل جائے۔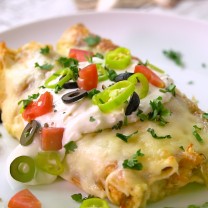 9 .
مزیدار چکن انچلاڈاس تیار ہیں۔اب کالا زیتون، سبز مرچ، ٹماٹر، دھنیا اور کالی مرچ سے گارنش کریں اور ساور کریم کے ساتھ سرو کریں۔