Chelo Kabab | Joojeh Kabab | Koobideh Kabob | Chello Bakhtiyari Kebab Recipe
Chelo Kabab | Joojeh Kabab | Koobideh Kabob | Chello Bakhtiyari Kebab Recipe
Research Content
Chelo Kabab: National dish of Iran Chelo Kabab recipe, full of flavors and a complete meal for your hunger games. Try out this Chelo Kabab Recipe and Enjoy yourself.
DIRECTIONS
If you are looking for some delicious recipes which are easy to make then look no further. SooperChef gives you a variety of recipes with easy step by step procedures which makes it easy to follow. Tried and tested recipes which every foodie will love to try.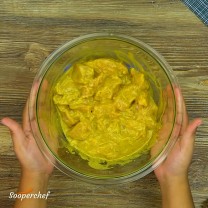 1 .
In a bowl add chicken boneless, saffron water, onion juice, yogurt, lemon zest, lemon juice, olive oil, salt, black pepper and turmeric. Mix all well and marinate for 6 hours in refrigerator.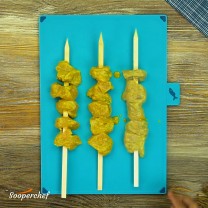 2 .
Take skewer and thread chicken pieces in it.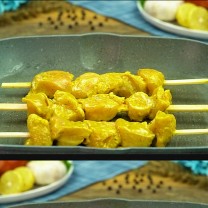 3 .
Heat oil in a pan and cook chicken skewers from each side until golden brown.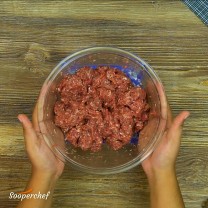 4 .
In a bowl add mince, saffron water, onion, baking soda, garlic paste, salt, black pepper, lime zest, salt, mango powder and coriander powder. Knead well for 4 to 5 minutes until sticky paste is formed. Refrigerate for 6 hours.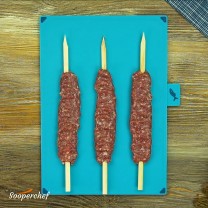 5 .
Thread the meat into the skewers and set aside.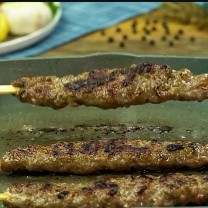 6 .
Heat oil in a pan, fry koobideh kababs until fully cooked.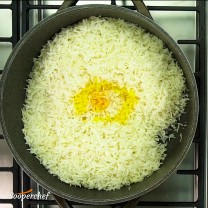 7 .
In a pan melt butter add boiled rice and mix well. Add yellow color, saffron water in it and mix well. And cook for 3 to 4 minutes.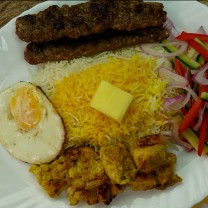 8 .
Tasty Chelo Bakhtiari Kebab Recipe is ready to serve.
DIRECTIONS
اگر آپ مزیدار اور آسان ریسپیز ڈھونڈ رہے ہیں تو آپ کو کہیں اور جانے کی ضرورت نہیں۔ سوپر شیف آپ کو مختلف اور آسان ریسپیز فراہم کرتا ہے جو کہ باآسانی بنائی جا سکتی ہیں۔ آزمودہ ریسپیز جو کہ ہر کھانے والے کی پسند بنے۔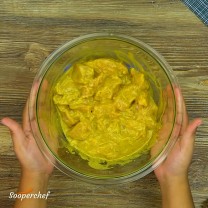 1 .
ایک باؤل میں چکن بون لیس، زعفران پانی، پیاز کا رس، دہی، لیموں کا رس، لیموں کا چھلکا، زیتون کا تیل، نمک، کالی مرچ اور ہلدی ڈال کر تمام اجزاء اچھی طرح مکس کرکے چھ گھنٹے کے لئے فریج میں رکھ دیں۔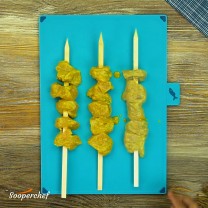 2 .
اب سیخوں پر چکن پیسیز لگائیں۔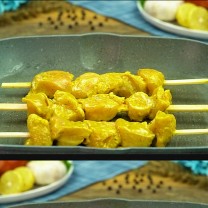 3 .
پھر ایک پین میں کھانے کا تیل گرم کر کے چکن سیخوں کو دونوں سائیڈوں سے گولڈن براؤن ہونے تک پکائیں۔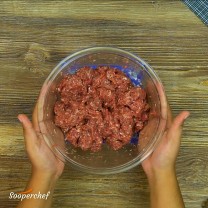 4 .
ایک باؤل میں قیمہ، زعفران پانی، پیاز، بیکنگ سوڈا، ادرک پیسٹ، نمک، کالی مرچ، لیموں کا چھلکا، نمک، آم کا پاؤڈر اور دھنیا پاؤڈر ڈال کر تمام اجزاچار سے پانچ منٹ اچھی طرح مکس کریں اور چھ گھنٹے کے لئے فریج میں رکھ دیں۔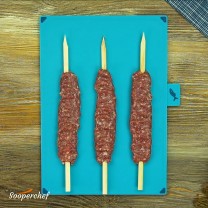 5 .
اب تیار کیا ہوا گوشت سیخوں پر لگائیں اور سائیڈ پر رکھ دیں۔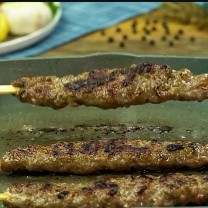 6 .
پھر ایک پین میں کھانے کا تیل گرم کر کے اس میں کوبیدہ کباب فرائی کر لیں۔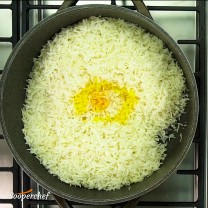 7 .
ایک پین میں مکھن پگھلا کر اس میں ابلے ہوئے چاول ڈالیں اور اچھی طرح مکس کریں۔اب اس میں پیلا کھانے کا رنگ اور زعفران پانی ڈال کر اچھی طرح مکس کرکے تین سے چار منٹ پکائیں۔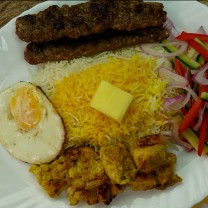 8 .
مزیدارچیلو بختیاری کباب ریسپی تیار ہے۔