Cheesy Kabab Bread Roll Recipe (Iftar Recipe)
Cheesy Kabab Bread Roll Recipe (Iftar Recipe)
Cheesy Kabab Bread Rolls filled with delicious cheese filling is a combo you can't miss. This simple Bread rolls recipe made with K&N's Seekh Kabab is loaded with all the right flavors. Do try out Cheesy Kabab Bread Rolls in your iftar and share your feedback with us.

DIRECTIONS
If you are looking for some delicious recipes which are easy to make then look no further. SooperChef gives you a variety of recipes with easy step by step procedures which makes it easy to follow. Tried and tested recipes which every foodie will love to try.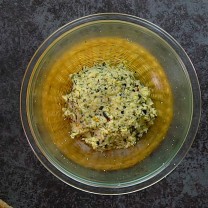 1 .
In a bowl add grated cheese, salt, black pepper powder, red chili flakes, jalapeno, black olives, oregano, mixed herbs, mint leaves and mix them well together.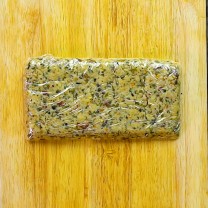 2 .
Change the cheese mixture into block shape and let it freeze for 2 hours.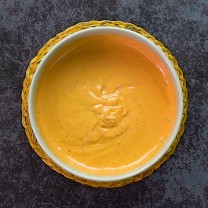 3 .
Now in a bowl add mayo, ketchup, hot sauce, salt, black pepper and garlic powder. Mix it well and your cocktail sauce is ready. Set aside.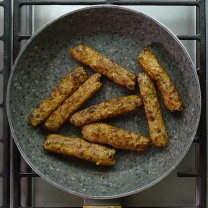 4 .
Take the K&N's Seekh Kabab and prepare as per instructions on the pack.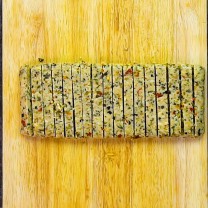 5 .
Now take the prepared cheese block and place it on board. Cut it into sticks.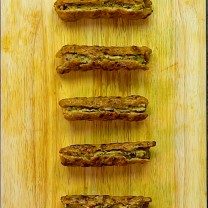 6 .
Take the prepared K&N's Seekh Kabab and, cut them vertically from center. Place a cheese stick in between the seekh kabab.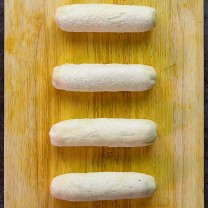 7 .
Now take sandwich bread slice, cut its sides and flatten it with rolling pin. Place the cheese stuffed kabab on one side of the bread. Roll the bread, brush water on the edges and seal it properly.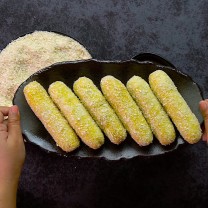 8 .
Now dip the bread roll in egg mixture, coat it in bread crumbs.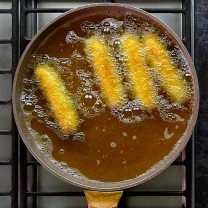 9 .
Now heat oil in a pan and fry the bread rolls for 3-4 minutes or until light golden brown.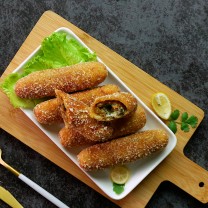 10 .
Tasty Kabab Bread Rolls are ready to serve.
DIRECTIONS
اگر آپ مزیدار اور آسان ریسپیز ڈھونڈ رہے ہیں تو آپ کو کہیں اور جانے کی ضرورت نہیں۔ سوپر شیف آپ کو مختلف اور آسان ریسپیز فراہم کرتا ہے جو کہ باآسانی بنائی جا سکتی ہیں۔ آزمودہ ریسپیز جو کہ ہر کھانے والے کی پسند بنے۔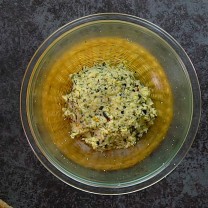 1 .
چیز اسٹکس بنانے کے لئے ایک باؤل میں کدو کش کی ہوئی چیز، نمک، کالی مرچ پاؤڈر، کٹی لال مرچیں، جیلپینو، کالا زیتون، اوریگانو، مکس ہربز اور پودینے کے پتے ڈال کر اچھی طرح مکس کر لیں۔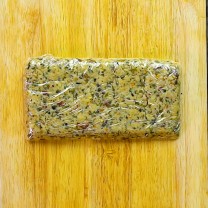 2 .
اب اس چیز مکسچر ٍکو بلاک شکل میں بنا لیں اور دو گھنٹے کے لئے فریج میں رکھ دیں۔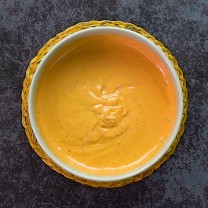 3 .
کوکٹیل سوس بنانے کے لئے ایک باؤل میں مایونیز، کیچپ، ہاٹ سوس، نمک، کالی مرچ اور لہسن پاؤڈر ڈال کر اچھی طرح مکس کر لیں، کوکٹیل سوس تیار ہے۔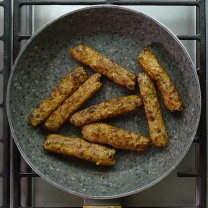 4 .
اسمبلنگ کے لئے پیکٹ پر دی گئی ہدایات کے مطابق سیخ کباب تیار کر لیں۔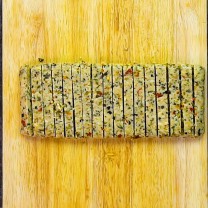 5 .
اب تیار کئے ہو ئے چیز بلاک کو اسٹکس میں کاٹ لیں۔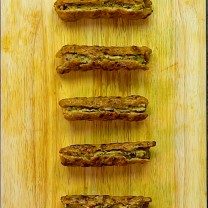 6 .
پھر تیار کئے ہوئے سیخ کباب لے کر ان کو درمیان سے کاٹ کر چیز اسٹک رکھیں۔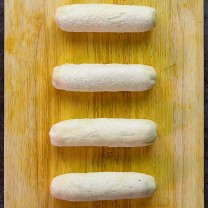 7 .
اب سینڈ وچ بریڈ سلائس لے کر اس کے کنارے کاٹ دیں اور بیلنے سے بیل کر ایک سائیڈ پر چیز سٹفڈ کباب رکھیں اور بریڈ کو رول کر لیں۔پھر اس کناروں پر برش سے پانی لگائیں اچھی طرح بند کر دیں۔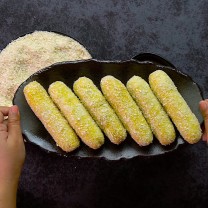 8 .
پھر اس بریڈ رول کر انڈہ لگائیں اور بریڈ کرمز میں کوٹ کر لیں۔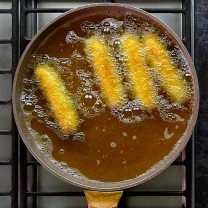 9 .
اب ایک پین میں کھانے کا تیل گرم کرکے بریڈ رولز کو تین سے چار منٹ یا لائٹ گولڈن براؤن ہونے تک فرائی کر لیں۔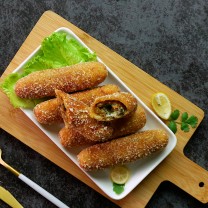 10 .
مزیدار کباب بریڈ رولز تیار ہیں۔