Chaskaydaar Teekhi Chaat Recipe (Kurkure Jhatpar Jugaar)
Chaskaydaar Teekhi Chaat Recipe (Kurkure Jhatpar Jugaar)
Iftar bnayen chaskaydaar with Kurkure's karakaydaar teekhi Chaat.
Loaded with tangy tamarind and green sauces, this Aloo chaat is a perfect addition to your menu. Top it with Kurkure and add a extra burst of spice, flavor, Crunch and Chaska. Ab aap bhi try karain ye Kurkure Chaskaydaar Teekhi Chaat
DIRECTIONS
If you are looking for some delicious recipes which are easy to make then look no further. SooperChef gives you a variety of recipes with easy step by step procedures which makes it easy to follow. Tried and tested recipes which every foodie will love to try.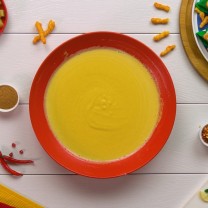 1 .
In a bowl add gram flour, salt, baking powder, turmeric powder and mix well. Now add water and make phulki batter. Let it rest for 15-20 minutes.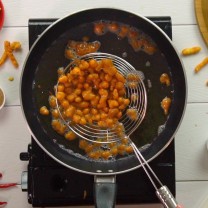 2 .
Heat oil in a fry pan and drizzle prepared batter in oil. Fry until golden brown phulki are prepared.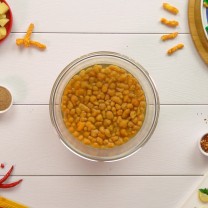 3 .
Let it cool on room temperature and soak in water until soft.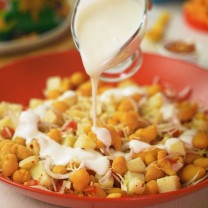 4 .
In a bowl add yogurt, salt and powdered sugar. Mix well and set aside.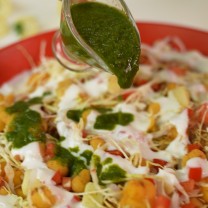 5 .
In a blender add tamarind pulp, jaggery powder, lemon juice, salt, cumin seeds, fennel seeds, red chili flakes, black pepper powder and blend well. Your sweet & sour chutney is ready.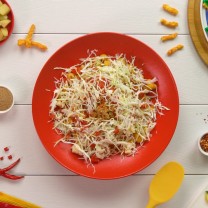 6 .
In a bowl add prepared phulki, boiled potatoes, onion, tomatoes, cabbage, chaat masala, red chili flakes and mix well.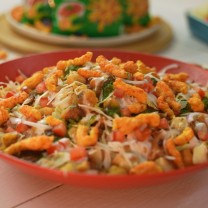 7 .
Drizzle yogurt mixture on top, green chutney, sweet & sour chutney, cabbage, tomato and lastly top with Kurkure. Your Chaskaydaar Teekhi Chaat Recipe is ready to serve.
DIRECTIONS
اگر آپ مزیدار اور آسان ریسپیز ڈھونڈ رہے ہیں تو آپ کو کہیں اور جانے کی ضرورت نہیں۔ سوپر شیف آپ کو مختلف اور آسان ریسپیز فراہم کرتا ہے جو کہ باآسانی بنائی جا سکتی ہیں۔ آزمودہ ریسپیز جو کہ ہر کھانے والے کی پسند بنے۔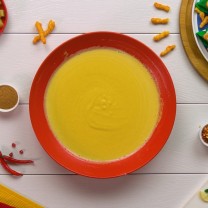 1 .
پھلکی بنانے کے لئے ایک باؤل میں بیسن، نمک، بیکنگ پاؤڈر اور ہلدی پاؤڈر ڈال کر اچھی طرح مکس کر لیں۔اب اس میں پانی ڈال کر پھلکی بیٹر بنا لیں اور پندرہ سے بیس منٹ کے لئے سائیڈ پر رکھ دیں۔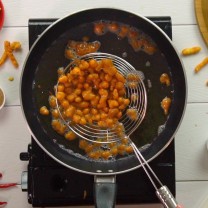 2 .
اب ایک پین میں کھانے کا تیل گرم کرکے اس میں تیار کیا ہوا بیٹر ڈالیں اور پھلکی گولڈن براؤن ہونے تک فرائی کر لیں۔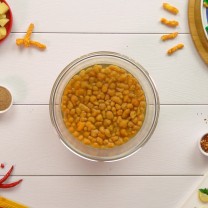 3 .
پھر پھلکیوں کو پانی میں بھگو کر رکھ دیں تاکہ نرم ہوجائیں۔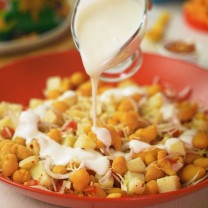 4 .
یوگرٹ مکسچر بنانے کے لئے ایک باؤل میں دہی، نمک اور پاؤڈرڈ شوگر ڈال کر اچھی طرح مکس کر لیں۔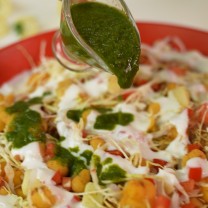 5 .
سویٹ اینڈ سار چٹنی بنانے کے لئے ایک بلینڈ ر میں املی کا گودا، گُڑ، لیموں کا رس، نمک، ذیرہ، سونف، کٹی لال مرچیں اور کالی مرچ پاؤڈر ڈال کر اچھی طرح بلینڈ کر لیں۔سویٹ اینڈ سار چٹنی تیار ہے۔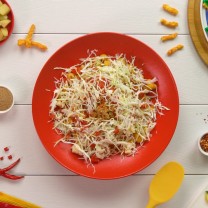 6 .
اسمبلنگ کے لئے ایک باؤل میں تیار کی ہوئی پھلکیاں، ابلے ہوئے آلو، پیاز، ٹماٹر، بند گوبھی، چاٹ مصالحہ اور کٹی لال مرچیں ڈال کر اچھی طرح مکس کر لیں۔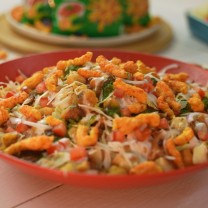 7 .
اب اس پر دہی مکسچر، سبز چٹنی، سویٹ سار چٹنی، بند گوبھی، ٹماٹر اور کُرکُرے ڈال دیں۔مزیدار چسکے دار تیکھی چاٹ ریسپی تیار ہے۔