Buffalo Sandwich Roll Recipe
Buffalo Sandwich Roll Recipe
Take a bite out of this mouthwatering Buffalo Sandwich Roll - the perfect blend of juicy chicken, and buffalo sauce, all piled high on soft bread. Watch now to learn how to make this easy and delicious Buffalo Sandwich Roll in just a few simple steps!
Ingredients
Ingredients for Grilled chicken:
Ingredients for Buffalo sauce:
Ingredients for Assembling:
DIRECTIONS
If you are looking for some delicious recipes which are easy to make then look no further. SooperChef gives you a variety of recipes with easy step by step procedures which makes it easy to follow. Tried and tested recipes which every foodie will love to try.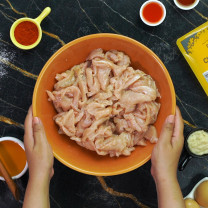 1 .
In a bowl add chicken fillets, oil, white pepper powder, ginger garlic paste, salt and mix it well. Marinate the chicken for 15-20 mins.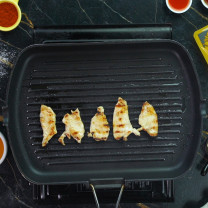 2 .
On a preheated grill pan brush oil and place the marinated chicken pieces. Grill each side for 1-2 mins or until fully done. set aside.
3 .
In a preheated pan add hot sauce, red vinegar, Worcestershire sauce, paprika powder, garlic powder, salt and cook until the sauce starts to thicken.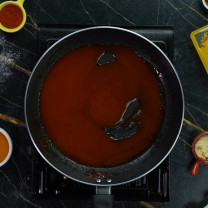 4 .
Now turn off the flame and add butter, mix until butter melts. Add honey, turn on flame and cook for a few seconds. Your Buffalo Sauce is ready.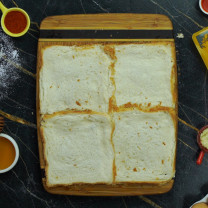 5 .
Take the bread slices and flatten the slices with a rolling pin. Assemble 4 slices together edge to edge in a square shape. Brush water on the edges and press the edges together to combine them.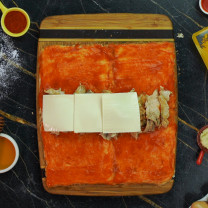 6 .
Spread buffalo sauce on them, and place a grilled chicken fillet and Nurpur cheddar cheese slice on them.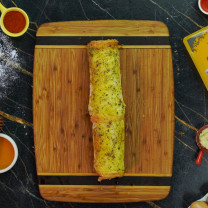 7 .
In a bowl add melted butter, mixed herbs and mix it well. Your Butter Mixture is ready.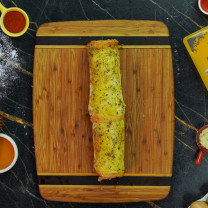 8 .
Roll the bread into a log shape. Brush the butter mixture on the bread logs.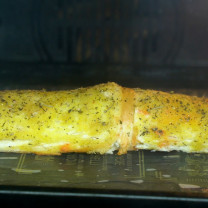 9 .
Transfer to a baking tray and bake in a preheated oven at 180°C for 5-7 mins.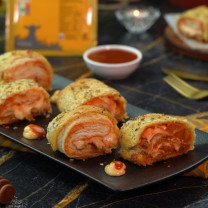 10 .
Your Buffalo Sandwich Rolls are ready. Serve and enjoy.
DIRECTIONS
اگر آپ مزیدار اور آسان ریسپیز ڈھونڈ رہے ہیں تو آپ کو کہیں اور جانے کی ضرورت نہیں۔ سوپر شیف آپ کو مختلف اور آسان ریسپیز فراہم کرتا ہے جو کہ باآسانی بنائی جا سکتی ہیں۔ آزمودہ ریسپیز جو کہ ہر کھانے والے کی پسند بنے۔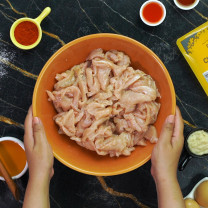 1 .
گرلڈ چکن بنانے کے لئے ایک باؤل میں چکن فلٹس، کھانے کا تیل، سفید مرچ پاؤڈر، ادرک لہسن کا پیسٹ اورنمک ڈال کر اچھی طرح مکس کریں اور چکن کوپندرہ سے بیس منٹ کے لیے میرینیٹ کریں۔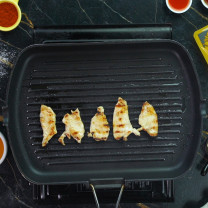 2 .
اب پہلے سے گرم گرل پین پر کھانے کا تیل برش کریں اور میرینیٹ کئے ہوئے چکن پیسیز کو پندرہ سے بیس منٹ یا اچھی طرح پکنے تک گرل کریں۔
3 .
بفیلو سوس بنانے کے لئے پہلے سے گرم پین میں ہاٹ سوس، سرکہ، ووسٹر شائر سوس، پیپریکا پاؤڈر، لہسن پاؤڈر اور نمک ڈال کر سوس گاڑھی ہونے تک پکائیں۔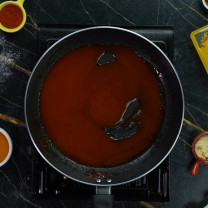 4 .
اب چولہا بند کرکے اس میں مکھن ڈال کر مکھن پگھلنے تک مکس کریں۔پھر اس میں شہد ڈال کر چولہا چلائیں اور کچھ سیکنڈ پکائیں۔ بفیلو سوس تیار ہے۔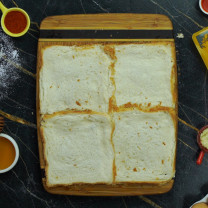 5 .
اسمبلنگ کے لئے بریڈ سلائسز کو بیلنے سے بیل لیں اور ایک مربع شکل میں کنارے سے کنارے تک چار سلائسز جمع کریں۔ کناروں پر پانی برش کریں اور کناروں کو یکجا کرنے کے لیے دبائیں۔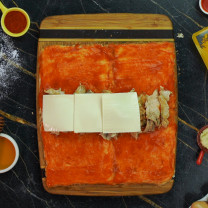 6 .
اب اس پر بفیلو سوس پھیلا کر اس پر گرلڈ چکن فلٹ اور نور پور چیڈر چیز سلائس رکھیں۔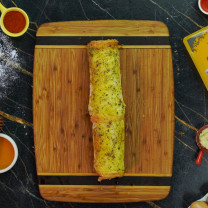 7 .
پھر ایک باؤل میں پگھلا ہوا مکھن اور مکس ہربز ڈال کر اچھی طرح مکس کر لیں۔ بٹر مکسچر تیار ہے۔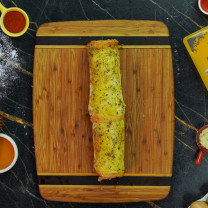 8 .
بریڈ کو لاگ شکل میں رول کرکے برش سے مکھن مکسچر لگائیں۔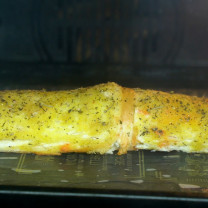 9 .
اب اسے بیکنگ ٹرے میں رکھ کر پہلے سے گرم اوون میں ایک سو اسی کے درجہ حرارت پر پانچ سے سات منٹ تک بیک کریں۔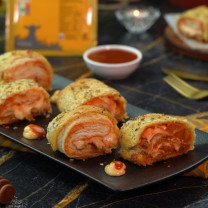 10 .
بفیلو سینڈوچ رولز تیار ہیں۔