Aloo Stuffed Afghani Fateer Recipe
Aloo Stuffed Afghani Fateer Recipe
Research Content
Aloo stuffed Aghani fateer is a classic recipe to satisfy your untimely cravings. Besides mince fill your fateer with potato filling and enjoy crispy crunchy fateer which you can even make on pan. Give this tasty aloo stuffed Aghani fateer recipe a try and share your feedback with us.
DIRECTIONS
If you are looking for some delicious recipes which are easy to make then look no further. SooperChef gives you a variety of recipes with easy step by step procedures which makes it easy to follow. Tried and tested recipes which every foodie will love to try.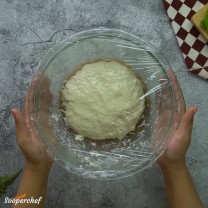 1 .
In a bowl add flour, salt, yeast and mix it well. Add water gradually and knead smooth dough. Let it rest for 30 minutes by covering.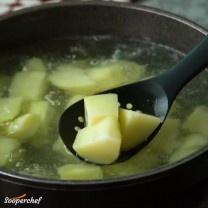 2 .
In a pan of slight salty water add peeled potatoes and boil until fully cooked. Strain out and let them cool on room temperature.
3 .
In a bowl add boiled potatoes and mash them finely.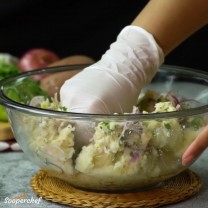 4 .
Add onion, green chilies, coriander, salt, red chili flakes, coriander powder, cumin powder in potatoes and mix them well. Lastly add cheese in the mixture and give it a good mix. Your filling is ready.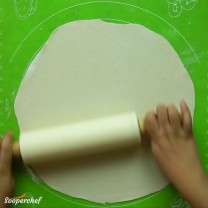 5 .
Take dough, cut it into four halves and roll out one part into a thin sheet.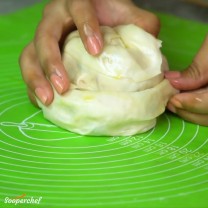 6 .
Brush it with butter, top it with potato filling and roll it tightly and make a ball shape.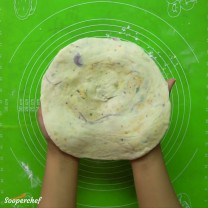 7 .
Again brush it with butter and let it rest for 10 minutes. Now roll it out into flat round shape.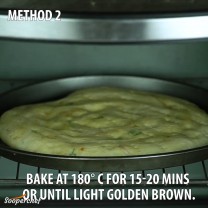 8 .
Option one: shift the fateer in a baking tray, prick it with fork and brush it with milk. Bake in a preheated oven at 180 degrees for 15 to 20 minutes or until light golden brown.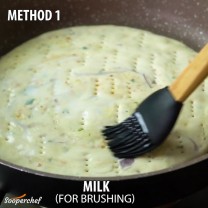 9 .
Option two: shift the fateer on a pre-heated pan, prick it with fork and brush it with milk. Cover and cook for 12 to 15 minutes on low flame.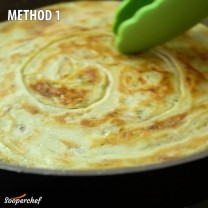 10 .
Flip it, brush with butter and cook until both sides are light golden brown.
11 .
Serve your delicious Aloo Stuffed Afghani Fateer with raita and enjoy.
DIRECTIONS
اگر آپ مزیدار اور آسان ریسپیز ڈھونڈ رہے ہیں تو آپ کو کہیں اور جانے کی ضرورت نہیں۔ سوپر شیف آپ کو مختلف اور آسان ریسپیز فراہم کرتا ہے جو کہ باآسانی بنائی جا سکتی ہیں۔ آزمودہ ریسپیز جو کہ ہر کھانے والے کی پسند بنے۔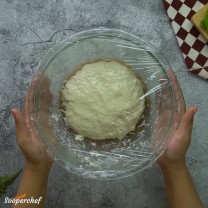 1 .
ایک برتن میں میدہ، نمک اور خمیر ڈال کر اچھی طرح مکس کرلیں۔اب تھوڑا کرکے پانی ڈالیں اور نرم ڈو گوندھ کر تیس منٹ تک سائیڈ پر رکھ دیں۔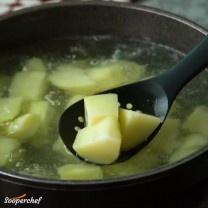 2 .
ایک برتن میں نمک، پانی، چِھلے اور کٹے ہوئے آلو ڈال کر اچھی طرح ابال لیں۔اب ان کو چھان لیں اور ٹھنڈا ہونے دیں۔
3 .
پھر ایک باؤل میں آلو ڈال کر اچھی طرح کوٹ لیں۔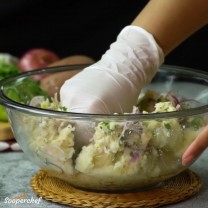 4 .
اب اس میں پیاز، سبز مرچیں، دھنیا، نمک، کٹی لال مرچیں، دھنیا پاؤڈر اور ذیر ہ پاؤڈر ڈال کر اچھی طرح مکس کرلیں۔پھر اس میں چیز ڈال کر اچھی طرح مکس کریں، فلنگ تیار ہے۔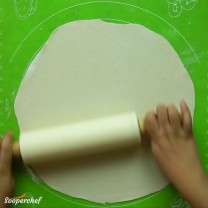 5 .
اب ڈو کو چار برابر حصوں میں کاٹ کر باریک شکل میں بیل لیں۔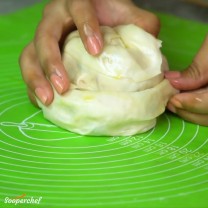 6 .
پھر اس پر برش سے مکھن لگاکر اس پر تیار کی ہوئی فلنگ رکھیں اور اچھی طرح پیڑا بنا لیں۔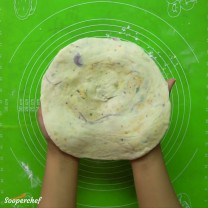 7 .
اب دوبارہ برش سے مکھن لگاکر دس منٹ سائیڈ پر رکھ دیں اور پھر گول شکل میں بیل لیں۔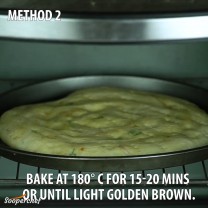 8 .
پہلا طریقہ: فطیر کو بیکنگ ٹرے میں رکھ کر کانٹے سے نشان لگائیں اور برش سے دودھ لگائیں۔اب پہلے سے گرم اوون میں ایک سو اسی کے ٹمپریچر پندرہ سے بیس منٹ لائٹ گولڈن براؤن ہونے تک بیک کر لیں۔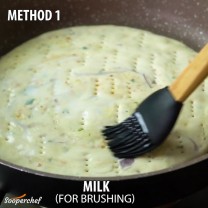 9 .
دوسرا طریقہ: فطیر کو پہلے سے گرم پین میں رکھ کر کانٹے سے نشان لگائیں اور برش سے دودھ لگائیں۔اب ڈھکن سے ڈھانپ کر ہلکی آنچ پر بارہ سے پندرہ منٹ پکنے دیں۔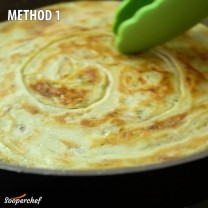 10 .
پھر سائیڈ بدل کر برش سے مکھن لگائیں اور دونوں سائیڈو سے لائٹ گولڈن براؤن ہونے تک پکائیں۔
11 .
مزیدار آلو فطیر رائتہ کے ساتھ سرو کریں۔