Aloo Finger Chaat Recipe
A bit different yet delicious Aloo Finger Chaat Recipe is the best chaat recipe you will ever try. Topped with tangy tamarind and mint sauces, it's a perfect combo. Try out this Sweet and tangy Aloo Finger Chaat and share your feedback with us.
Ingredients
Ingredients for Aloo Finger:
Ingredients for green chutney:
Ingredients for imli chutney:
Ingredients for Sweet Yogurt:
Ingredients for Toppings:
DIRECTIONS
If you are looking for some delicious recipes which are easy to make then look no further. SooperChef gives you a variety of recipes with easy step by step procedures which makes it easy to follow. Tried and tested recipes which every foodie will love to try.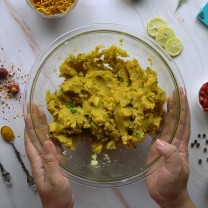 1 .
In a bowl add potatoes, salt, red chili powder, turmeric powder, green coriander, green chilies, cumin seeds and mash well.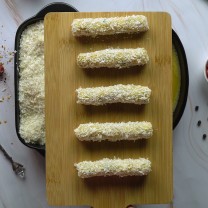 2 .
Now take the potato mixture in the palm of your hand, coat it in eggs and bread crumbs.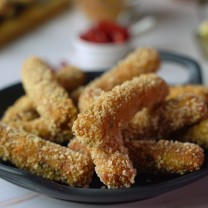 3 .
Deep fry until light golden and crispy in texture. Your aloo finger is ready. Set aside.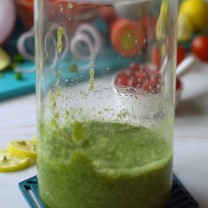 4 .
In a blender add green coriander, mint, green chilies, onion, salt, lemon juice, black pepper, water and blend into smooth paste. Your green chutney is ready.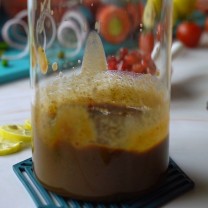 5 .
In a blender add tamarind pulp, brown sugar, red chili powder, sugar, mint leaves, salt and blend well. Your imli chutney is ready.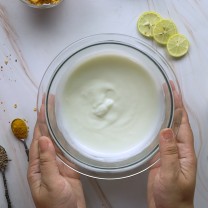 6 .
In a bowl add yogurt and sugar. Mix well. Your sweet yogurt is ready.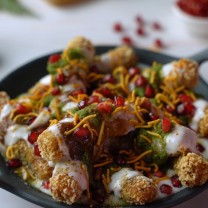 7 .
In a plate add aloo finger, top it with sweet yogurt, onion, imli chutney, green chutney chutney, pomegranate, sev, chaat masala, and serve.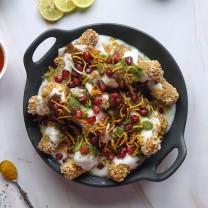 8 .
Your Aloo Finger Chaat is ready. Serve and enjoy.
DIRECTIONS
اگر آپ مزیدار اور آسان ریسپیز ڈھونڈ رہے ہیں تو آپ کو کہیں اور جانے کی ضرورت نہیں۔ سوپر شیف آپ کو مختلف اور آسان ریسپیز فراہم کرتا ہے جو کہ باآسانی بنائی جا سکتی ہیں۔ آزمودہ ریسپیز جو کہ ہر کھانے والے کی پسند بنے۔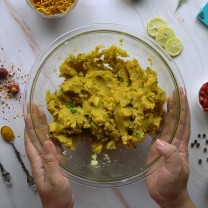 1 .
آلو فنگر بنانے کے لئے ایک باؤل میں آلو، نمک، لال مرچ پاؤڈر، ہلدی پاؤڈر، سبز دھنیا، سبز مرچیں اور ذیرہ ڈال کر اچھی طرح میش کر لیں۔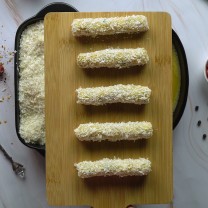 2 .
اب ا س مکسچر کو پنے ہاتھوں پر رکھ کر فنگر ز بنا لیں اور انڈہ لگا کر بریڈ کرمز میں کوٹ کر لیں۔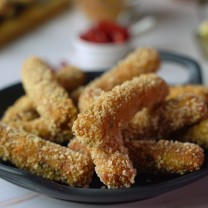 3 .
پھر آلو فنگر ز کو لائٹ گولڈن اور کرسپی ہونے تک فرائی کر لیں، آلو فنگرز تیار ہیں۔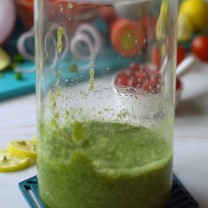 4 .
سبز چٹنی بنانے کے لئے ایک بلینڈر میں سبز دھنیا، پودینہ، سبز مرچیں، پیاز، نمک، لیموں کا رس، کالی مرچیں اور پانی ڈال کر اچھی طرح بلینڈ کر لیں، سبز چٹنی تیار ہے۔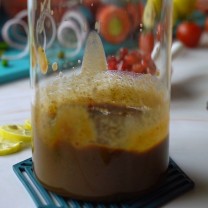 5 .
املی چٹنی بنانے کے لئے ایک بلینڈ ر میں املی کا گودا، براؤن شوگر، لال مرچ پاؤڈر، چینی، پودینے کے پتے اور نمک ڈال کر اچھی طرح بلینڈ کر لیں، املی چٹنی تیار ہے۔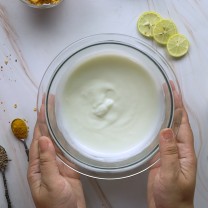 6 .
سویٹ یوگرٹ بنانے کے لئے ایک باؤل میں دہی اور چینی ڈال کر اچھی طرح مکس کر لیں، سویٹ یوگرٹ تیار ہے۔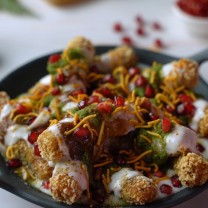 7 .
اسمبلنگ کے لئے ایک پلیٹ پیں آلو فنگر رکھ کر اس پر سویٹ یوگرٹ، پیاز، املی چٹنی، سبز چٹنی ڈال کر پھر انار، سویاں اور چاٹ مصالحہ چھڑک دیں۔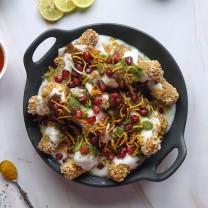 8 .
مزیدار آلو فنگر چاٹ ریسپی تیار ہے۔