Achari Lauki Chana Daal Recipe
Achari Lauki Chana Daal Recipe
Achari lauki chana daal
is tasty and simple lunch recipe which is prepared with bottle gourd and split gram lentil. Make your simple daal a little interesting by adding pickle in it. Give try to this lauki chana daal recipe and share your feedback with us.
DIRECTIONS
If you are looking for some delicious recipes which are easy to make then look no further. SooperChef gives you a variety of recipes with easy step by step procedures which makes it easy to follow. Tried and tested recipes which every foodie will love to try.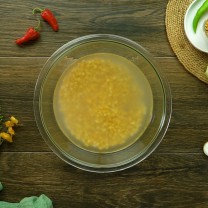 1 .
In a bowl add water, lentil and soak it overnight.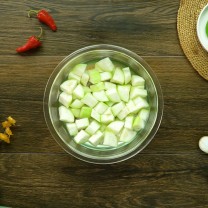 2 .
Take bottle gourd, peel and cut into small cubes. Then soak them in water to prevent them from getting dark before cooking.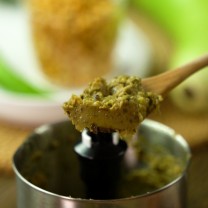 3 .
In a blender add mango pickle and blend it into a smooth paste.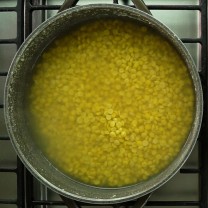 4 .
In a pot simmer water, add soaked lentil and boil it for 20 to 25 minutes or until lentil is 80% done. Save the lentil stock for later use.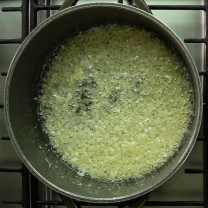 5 .
Heat oil in a pan, add ginger garlic paste and sauté it for a minute. Add onion and cook until translucent. Lastly add curry leaves and mix.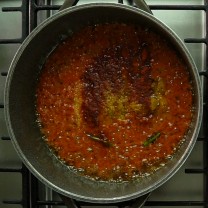 6 .
Then add tomato puree and cook for 1-2 minutes. Add mustard seeds, nigella seeds, fennel seeds and cook for 2 minutes. Then add salt, turmeric powder, chili powder and cook for 5 to 7 minutes.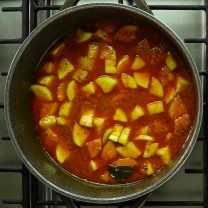 7 .
Now add soaked bottle gourd and cook for 2 to 3 minutes. Add half cup of water, cover and cook for 10 to 15 minutes or until bottle gourd gets tender.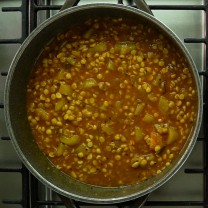 8 .
Add boiled lentil, pickle paste and cook for 2 to 3 minutes. Lastly add lentil stock, cover and cook for 10 to 15 minutes on medium low flame.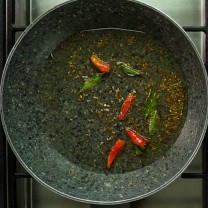 9 .
In another pan heat oil, add cumin seeds, curry leaves, whole red chilies and fry for 2 to 3 minutes. Your tarka is ready. Pour it on your dish.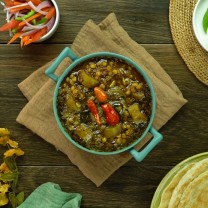 10 .
Serve your tasty achari daal lauki with paratha and enjoy.
DIRECTIONS
اگر آپ مزیدار اور آسان ریسپیز ڈھونڈ رہے ہیں تو آپ کو کہیں اور جانے کی ضرورت نہیں۔ سوپر شیف آپ کو مختلف اور آسان ریسپیز فراہم کرتا ہے جو کہ باآسانی بنائی جا سکتی ہیں۔ آزمودہ ریسپیز جو کہ ہر کھانے والے کی پسند بنے۔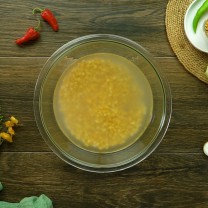 1 .
ایک باؤل میں پانی اور دال رات بھر بھگو کر رکھ دیں۔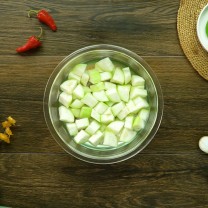 2 .
اب لوکی کو چھیل کر کاٹ لیں اور پھر پانی میں بھگو کر دکھ دیں۔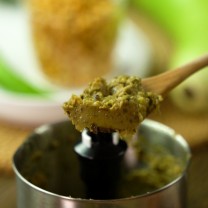 3 .
پھر آم کا اچار لے کر اچھی طرح بلینڈ کر لیں اور پیسٹ بنا لیں۔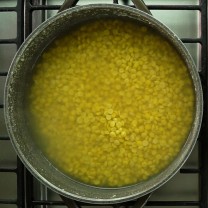 4 .
اب ایک برتن میں پانی ابلنے دیں اور اس میں بھگوئی ہوئی دال ٖڈال کر بیس سے پچیس منٹ ابال لیں یا جب تک دال اسی فیصد پک جائے(بعد میں استعمال کے لئے دال کی یخنی نکال کر سائیڈ پر رکھ دیں)۔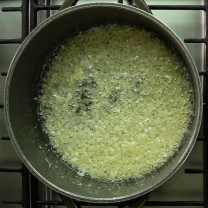 5 .
پھر ایک پین میں کھانے کا تیل گرم کرکے اس میں ادرک لہسن پیسٹ ڈال کر ایک منٹ بھون لیں۔اب اس میں پیاز ڈال کر ایک منٹ اور پکا لیں۔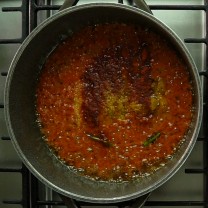 6 .
اب اس میں پسے ہوئے ٹماٹر ڈال کر ایک سے دو منٹ پکائیں۔ پھر اس میں کڑی پتا، رائی دانہ، کلونجی اور سونف ڈال کر دو منٹ پکا ئیں۔ اب اس میں نمک، ہلدی پاؤڈر اور چِلی پاؤڈر ڈال کر پانچ سے سات منٹ پکائیں۔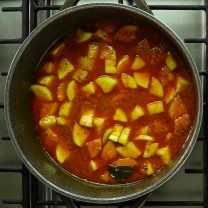 7 .
پھر اس میں بھگوئی ہوئی لوکی ڈال کر دو سے تین منٹ پکائیں۔ اب اس میں آدھا کپ پانی ٖڈال کر ڈھکن سے ڈھک کر دس سے پندرہ منٹ پکائیں یا جب تک لوکی گل جائے۔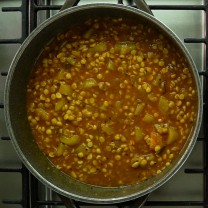 8 .
اب اس میں بھگوئی ہوئی لوکی اور اچار پیسٹ ڈال کر دو سے تین منٹ پکائیں۔پھر اس میں دال کی یخنی ڈال کر ڈھکن سے ڈھک کر دس سے پندرہ منٹ درمیانی ہلکی آنچ پر پکائیں۔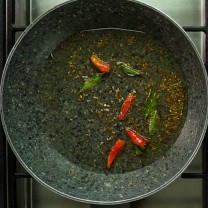 9 .
اب ایک دوسرے پین میں کھانے کا تیل گر م کرکے اس میں ذیرہ، کڑی پتا اور ثابت لال مرچیں ڈال کر دو سے تین منٹ پکائیں اور اپنی ڈِش پر ڈال دیں۔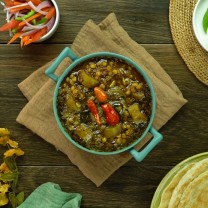 10 .
مزیدار اچاری لوکی چنا دال پراٹھے کے ساتھ سرو کریں۔